View iPhone Application On TV And Fix "This Accessory Is Not Made To Work With iPhone" While Using Cheaper Non-Apple A/V Cable
Submitted by Deepesh Agarwal on Thu, 05/13/2010 - 14:57
iPhone,
Apple,
Cydia,
iPhone TV Out,
Landscape TV Out,
TVOut2,
TVOut2 Mirror TVOut,
Fixing This Accessory Is Not Made To Work With iPhone,
iPhone Compatible AV Cable,
Cheap iPhone Composite Cable,
iPhone VGA

Apple restricts use of cheaper compatible composite A/V cables on iPhone and only allows TV-out support via an original Apple cable and that to for only selected applications like iPod and photo slide-shows, if you plugin an non-apple video-out cable in your iPhone you are shown an error "This Accessory Is Not Made To Work With iPhone" and TV-out does not work. Luckily if you have an jailbroken iPhone, not only you can make use of the cheaper non-apple A/V cable for TV-out functionality but also mirror the iPhone display on your TV, meaning you can enjoy all your iPhone applications and games on the big screen.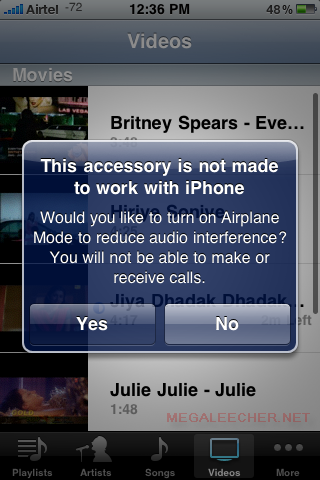 To get the TV-out functionality on your iPhone there exist quite a few hacks on Cydia and all you need to do is to search "TVOut" there, out of the three free applications available (Landscape TVOut, TVOut and TVOut2) I have found TVOut 2 Mirror TVOut to be the best in all terms that is - ease of use, interface, performance and features.