Grab Free SpoofCard PIN And Fake Your Caller ID Of Choice
Submitted by Deepesh Agarwal on Wed, 09/30/2009 - 06:03
Spoofcard,
Free Spoofcard,
Free Phone Spoofing,
Fake Number Call,
Spoofcard Pin,
Spoofcard Code,
Spoofcard Call,
Free Spoofcard Call,
Free Spoofcard Pin,
Spoofcard Number,
Iphone Number Spoof,
Spoofcard Minutes

SpoofCard is a well-known caller-id spoofing service letting users fake their caller id's with any number of choice, the service also offers features which let users change their voice-tone and keep records of phone conversation for future references.
Under a special promotion SpoofCard is giving away a free 5 minutes PIN for promoting their service on Twitter, grab the free PIN and enjoy faking your caller id's.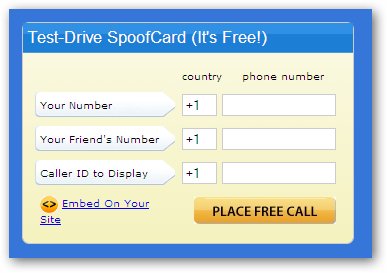 To get your free SpoofCard PIN simply visit this page and login to your twitter account posting the promotional tweet, you will then get your SpoofCard PIN mailed to you.