IE9-Windows7-x86-enu.exe
Submitted by admin on Fri, 02/11/2011 - 08:44
Microsoft has finally unveiled another major milestone to final release of Internet Explorer 9 by making IE9 Release Candidate download available for everybody. The "Release Candidate" build features a new ActiveX filtering system which allows users to "turn off ActiveX" for all sites and then re-enable it on site by site basis, on the UI part users can now have tabs on a separate line from address bar, apart from these changes many improvements were done in overall web-browser performance, standards & platform support, user experience and security as detailed next.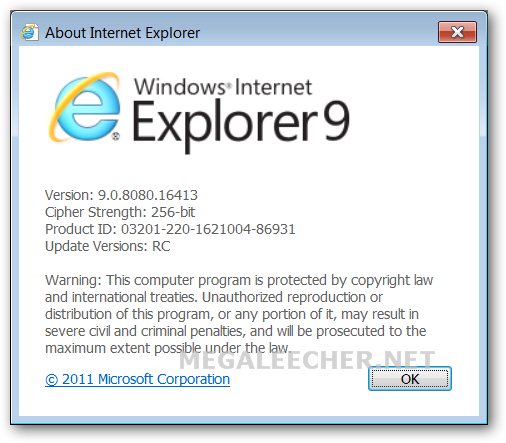 Submitted by admin on Tue, 01/25/2011 - 13:55
Any new leaked build of Internet Explorer 9 makes news across blogsphere, unlike previous leaks after IE9 Beta brand new build "Internet Explorer 9.00.8073.6010" has not made it's way to public but a Russian website Winreview.ru has leaked current screenshots showing notable UI changes.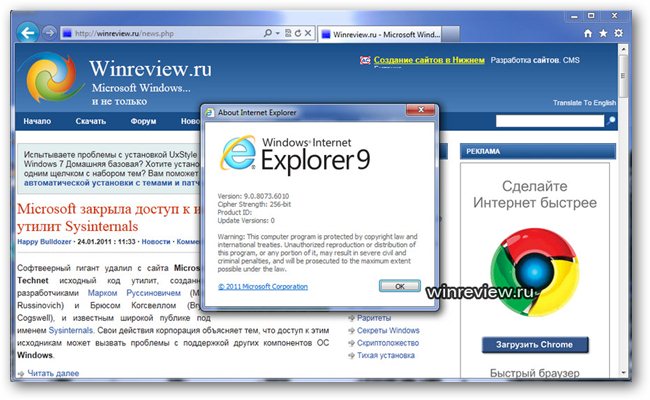 Submitted by admin on Wed, 11/24/2010 - 07:19

After Internet Explorer 9 first beta a third-party site claimed to have possession of an Microsoft internal Internet Explorer Post Beta Build 9.0.8002.6000 and posted screenshot teasers but the installer never got leaked to public, now the rumor mill is once again hot about an eminent IE9 Beta 2 public release after "Internet Explorer 9 Leaked Beta Build 9.0.8027.6000" made it's way out to torrent-portals and sites like Rapidshare, Hotfile and megaupload for mass consumption. This new build includes new bug-fixes, stability improvements, speed enhancements using updated latest rendering-engine and as evident from digital signature seems to be compiled on November 19.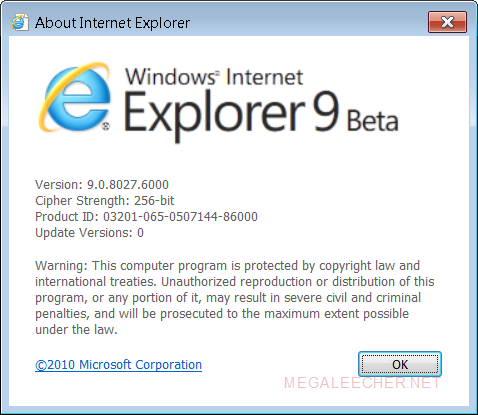 Submitted by admin on Wed, 09/15/2010 - 18:01
The IE9 Beta installer is now officially available for public download and can be grabbed from the direct download links provided below, the web-installer stub is just 2.37 MB in size which downloads the remaining setup files (roughly 24 mb on Windows 7 32bit) and surprisingly requires a system reboot to install (the only web-browser to do that).