Android Application
Submitted by admin on Wed, 10/19/2011 - 08:05
New Apple iPhone 4S features the much talked around "Siri" virtual voice assistant, luckily users having Google Android can benefit for something similar using free android application "Speaktoit Assistant". The user simply needs to ask an question to the assistant and it will perform the requested task like finding information, launching apps, connecting user with various web services - such as Google, Facebook, Twitter, Foursquare, etc., get maps, search for news and images, look up weather reports, convert currency and measurements, send email, and much more.
Speaktoit Assistant makes use of powerful multi-lingual Google speech-to-speech technology to answer your questions in natural language, performs tasks, and notifying users about important events.
Submitted by admin on Sun, 10/16/2011 - 03:03
Augmented Reality is no longer a science fiction or lab-technology, thanks to augmented reality applications like Atol les opticiens, Kinect Magic Mirror or AR Business Cards the technology is increasingly making it's way to the mainstream usage into our daily lives.
To get the ball rolling forward, an uber-cool augmented reality application for Google Android is now available for free to users (free during limited period beta) - named "iOnRoad Augmented Driving". The winner of 2011 Mobile Summit App contest allows users to make use of their device camera, processing the captured data via an real-time image recognition algorithms to auto recognizes the vehicle in front, measuring the time-gap and warn the user in-case a danger is detected. The dynamic augmented reality driving and real-time collision detection application delivers a visual radar by combining realtime day/night machine vision with sensor fusion to provide better road-safety.
Submitted by admin on Fri, 10/14/2011 - 13:58
The application eco-system of Google's mobile operating-system Android is increasing by leaps-and-bound everyday, to take advantage of this ever-increasing application base virtualization on platforms like Windows OS is already getting attention. To get things moving forward on the front, a new software application for Windows platform BlueStacks is out now enabling users to run android applications on Windows computers.
BlueStacks allows users to run Android OS apps on Windows PCs with instant switching between the two. BlueStacks helps PC manufacturers to ride the Android momentum by enabling Android apps on x86-based tablets, netbooks, notebooks, convertibles and AiO Windows PCs. With the new hybrid convertible form factors, BlueStacks completely eliminates the need to carry two devices. The end consumer benefits from getting both Android and Windows at the price of a single PC.
Submitted by admin on Tue, 09/27/2011 - 05:25

The hugely popular multi-platform, open-source VLC Media Player is well known for it's wide support for virtually every multimedia format available. The nifty media-player is already available for Windows, Mac, Linux and Apple iOS platforms, while Android port of this software is still under development in pre-alpha phase - we now have a first public compiled binary build of Android VLC Media Player for Android available for download.
Similar to another popular media-player port of MPlayer to android, VLC for android will allow users to say goodbye to all the multimedia re-encodings as they will become a "supported format" for your device once VLC is in there.
Submitted by admin on Thu, 06/02/2011 - 05:05

Thanks to the awesome GPU power provided by nVidia Tegra 2 and strong gaming platform support by "Google Android", console quality games on mobile phones like "RipTide GP" are here.
Riptide GP is a brand new console-quality water racing game for android mobile phones and tablets, the game features super-realistic water physics with real-time reflections, and gorgeous high-detail vehicles and environments offering a super immersible HD quality gaming experience on mobile devices. The players take control of a supercharged jet-ski and take a wild ride through twisting canals and rivers, futuristic cityscapes, and mysterious research facilities. Skill, stunts, and speed will be your best allies as you grab massive air off huge waves, kick out death-defying tricks, and boost your jet ski to victory across a dynamic, ever-changing torrent of foam and spray.
Submitted by admin on Thu, 05/12/2011 - 09:26

Google Music Beta launch yesterday accompanied the release of "Google's Music 3.0 Android App", once again the app download is restricted to American users and users from other countries are shown error "This item cannot be installed on your device's country" blocking the installation. Luckily XDA dev's have ripped the com.google.android.music-1.apk making it available for free public downloading which is installable on all android devices, bypassing the country limitation. "Google's Music 3.0 Android App APK" download link with images available after the jump.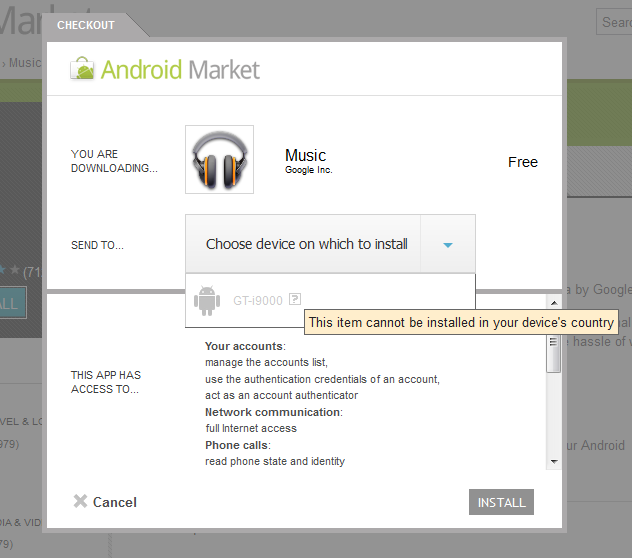 Submitted by admin on Tue, 05/03/2011 - 08:56
One of the coolest feature supported by "Google Android" would be the ability to set animated live wallpapers, "Spring Zen Free" is one such live background app allowing users to enjoy the beauty of Spring in a peaceful park surrounded by the blossoming of new life on their mobile screens.
The beautiful app features animated sunlight filtering through swaying trees as cherry blossoms float past. A birds nest perched in a branch overlooks a park bench, gently flowing brook, and blooming flowers.
Submitted by admin on Thu, 03/31/2011 - 06:42
While Google Android supports multi-tasking natively, it allows you to work on a single application at one time. This makes sense on small-screen devices but with larger screens available on android powered tablets users can make better use of additional screen real-state working on multiple applications, and to make this possible new app Onskreen is soon coming to all tablets running Honeycomb or Gingerbread flavors of Android enabling users to use and interact with multiple applications at the same time. Demonstration video after the jump.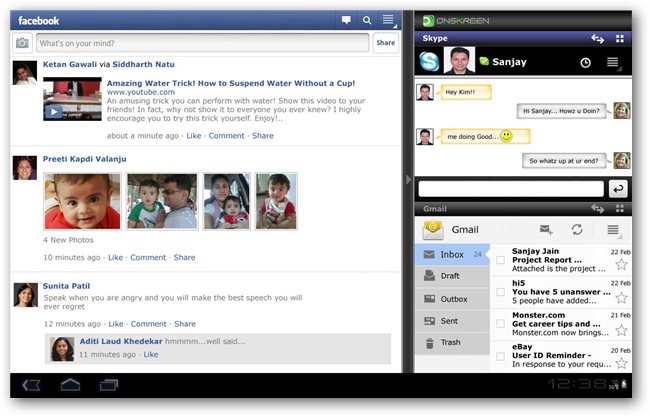 Submitted by admin on Tue, 02/22/2011 - 13:19
Majority of Samsung Galaxy I9000 users face two issues the non-reliable Wi-Fi and inability to get a GPS location fix by the device. Solution to the Wi-Fi problem was shared earlier, and while the "GPS Fix" issue somewhat got tackled after Android 2.2 update many users are still facing troubles getting a fast GPS fix on their devices.
To get rid of the issue a new free application is now available for download in Android Market pushing extra GPS aiding data resulting in a better and faster GPS satellite fix on Samsung Galaxy I9000.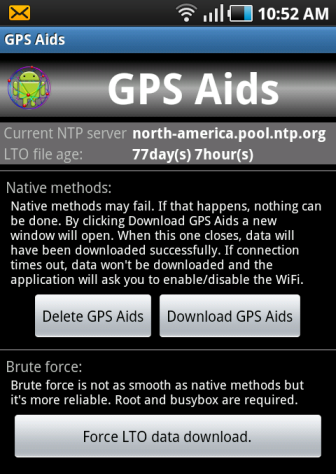 Submitted by admin on Sat, 02/05/2011 - 09:32
Torrent downloading from mobile phones has always been a functionality users are looking for, we have shared TorrentDroid which gets the job done for Android users. µTorrent Remote - the official offering from none other than BitTorrent Inc. the maintainer of BitTorrent protocol and creator of multi-platform µTorrent client is also out now promising complete, hassle free, remote control of your torrent client from anywhere.
µTorrent Remote and µTorrent Web allows users to add, remove, track, stream and control their torrent downloads from anywhere using their mobile phone or any web-browser connected to internet.