Windows
Submitted by admin on Mon, 01/04/2010 - 08:42

Microsoft routinely provides a single installable package with collection of updates, fixes and/or enhancements for their software as Service Packs addressing common annoyances and adding new features to their products, After quite successful launch of company's latest operating-system Windows 7 it now seems that Microsoft is all-set to start external beta-testing of Windows 7 Service Pack 1 (SP1), Blogger Rafael has found that as previously done a beta 'candidacy check' within Windows Update achieved via simple registry key and value pair needs to be done for getting authorized to download the new Windows 7 SP1 Update.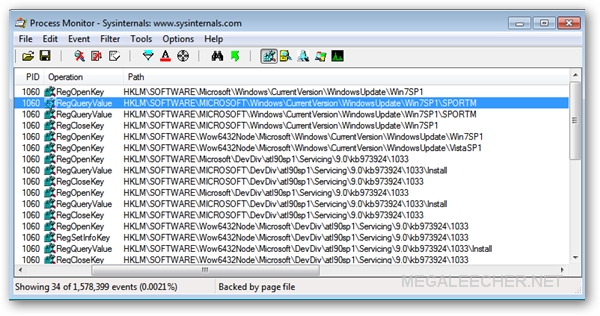 Submitted by admin on Sat, 03/22/2008 - 05:25
At times we need to open the target folder location of a shortcut, in Windows Vista you just need to right-click and choose "Open file location", but in-case of windows XP you need to - right-click the shortcut -> select Properties and then click "Find Target", However, to achieve the Vista type context menu option in Windows XP, simple install this handy OpenTarget shell extension (52.4 KB).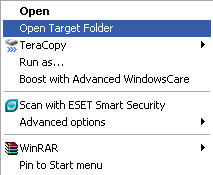 Submitted by admin on Thu, 01/31/2008 - 14:59

Here are two simple methods to get rid of annoying Windows XP balloon popup's :
Press Windows Key + R
Type regedit.exe and press enter.
Navigate to key - HKEY_CURRENT_USER\Software\Microsoft\Windows\CurrentVersion\Explorer\Advanced
right-Click and create a new DWORD value called EnableBalloonTips
Give it a decimal value of 0 (zero)
OK and Exit, Restart system and balloon tips should be gone.
Group Policy Editor Method
Press Windows Key + R
Type GPEDIT.MSC and press enter.
Navigate to User Configuration -> Administrative Templates -> Start Menu & Taskbar
Double-click "Remove Balloon Tips on Start Menu Items" and choose Enabled.
OK and close GPEDIT.
Restart system and balloon tips should be gone.
Submitted by admin on Sat, 11/24/2007 - 06:25
First it was the leaked Windows XP SP3 Download and now there is a registry hack floating on internet which allows you to download Windows XP SP3 RC1 (Release Candidate 1)directly from the Windows update website, here is a quick and dirty little application to enable the registry hack on your computer. The third service pack (SP3) for the Windows XP Operating system is said to have 113 security updates and 958 hotfixes.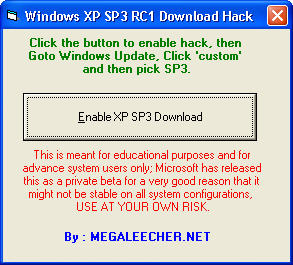 Pls. keep in mind that this is meant for advance users and educational purpose only, this is not the final version of Windows XP SP3, it is release candidate 1, Use at your own risk.