Social Network
Submitted by admin on Mon, 02/04/2013 - 03:12
Though creating a Facebook cover isn't exactly rocket science, unless you have the design acumen (whether that's with a pen and paper or with a professional design package) to create something yourself you'll likely find yourself twiddling your thumbs for hours and ends rather than end up with a please to the eye Facebook cover.
The endeavour of creating a cover for your Facebook timeline isn't something that necessarily needs to be left to chance and a time consuming painstaking effort armed with a digital paintbrush. There are instead a variety of cover creator applications for your Facebook timeline and this article will review them.
Although there are of course a variety of websites that distribute covers for Facebook, none of them give you a hand on the creative input of the cover and as such, to some extent; it's like photocopying your school art homework from someone more talented. Whilst it gets you something pretty it feels a bit wrong.
The advantage of a cover creator for Facebook is that you are able to make up your own Facebook cover to some extent without the inconvenience of mastering digital art skills.
Released just two months ago, this Facebook cover creator has started to make strides in popularity. Whilst Make a Cover for Facebook is somewhat late to the cover creating party, it does offer something just a bit different to the existing Facebook cover applications that are available to use.
The unique selling point of this cover maker app is that users modify the template of a selected character composing up a composite image from a collection of clothing wears and a range of facial expressions.

Users compose a Facebook cover in a systematic fashion by choosing the options that appeal the most, a cover preview window is automatically updated whilst choices are made.
Submitted by admin on Sat, 05/26/2012 - 05:02
Facebook has put there bets high on the newly introduced Facebook Timeline layout, while the new introduction was not welcomed by all with users trying tricks and hacks to disable the new timeline layout. Facebook continued to evolve the Timeline and also introduced "Timeline Apps", many users creatively used the new Facebook Timeline and new websites popped up within days offering timeline covers for users.
Facebook seems to be once again tweaking the "Profile" layout, while retaining the overall "Facebook Timeline" some users caught the new layout design in testing.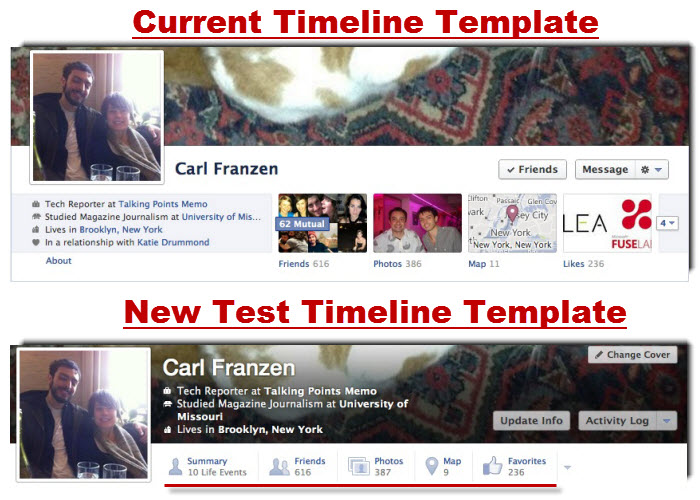 Full image of the new Facebook Timeline layout posted below.
Submitted by admin on Fri, 05/25/2012 - 04:50

Facebook has unveiled there new mobile app for Apple iOS, the dedicated camera application "Facebook Camera" allows fast and easy sharing of photos on Facebook. The new application provides ability to post a selective group of photos at once, check friends latest photos at one place, simple image editing tasks with crops and filters, ability to tag friends and add captions.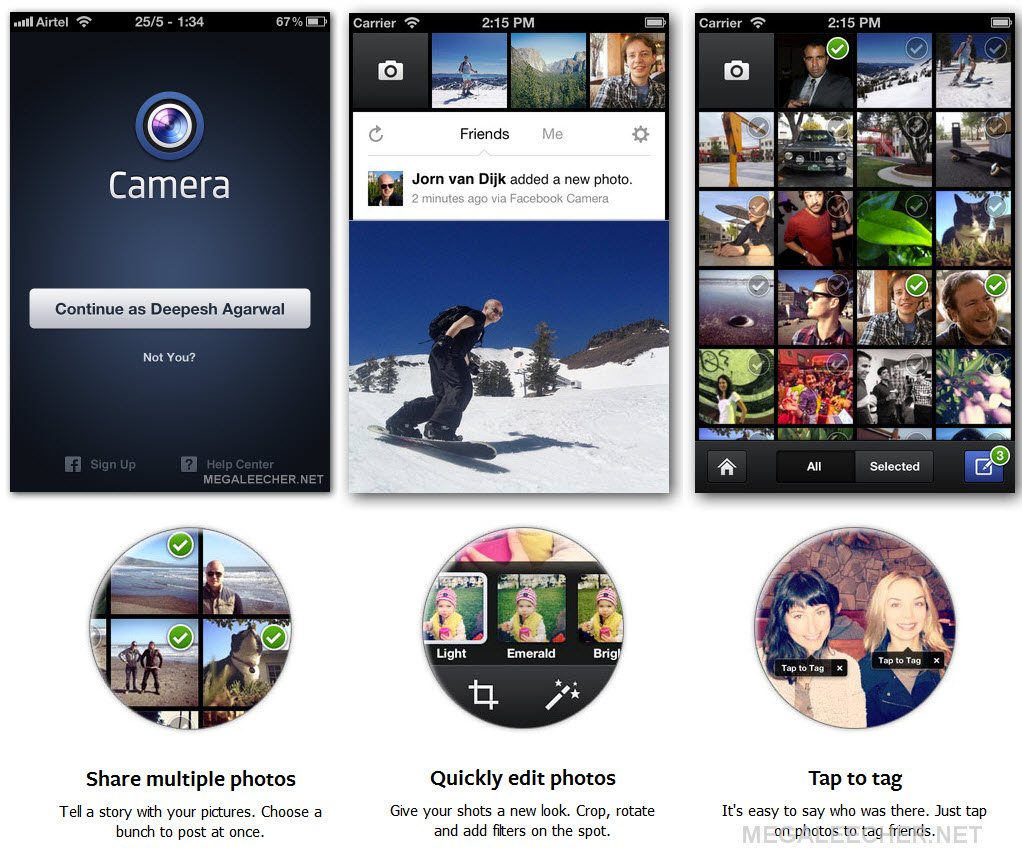 Submitted by admin on Sun, 01/15/2012 - 01:47
The new Facebook Timeline feature permits a lot of creative potential thanks to the new covers images, here is an brilliant use of the feature to spread the anti-drug message.
Submitted by admin on Sat, 01/07/2012 - 06:11
While some love the new facebook timeline profile design and other hate it, for the haters we have shared the simple hack to de-activate the feature even tough not officially supported by facebook.
A new feature of the timeline profile design is the ability to upload big-banner sized "Cover Images", here are some of the best websites to get cool facebook cover banner designs and customize them making you stand out of the crowd.
Submitted by admin on Tue, 01/03/2012 - 07:39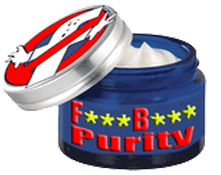 If the newly introduced "Facebook Timeline" feature is not your cup-of-tea, there is no official way to get rid of it. However, thanks to the nifty hack shared ahead "Facebook" users can still revert-back to the old Facebook profile look.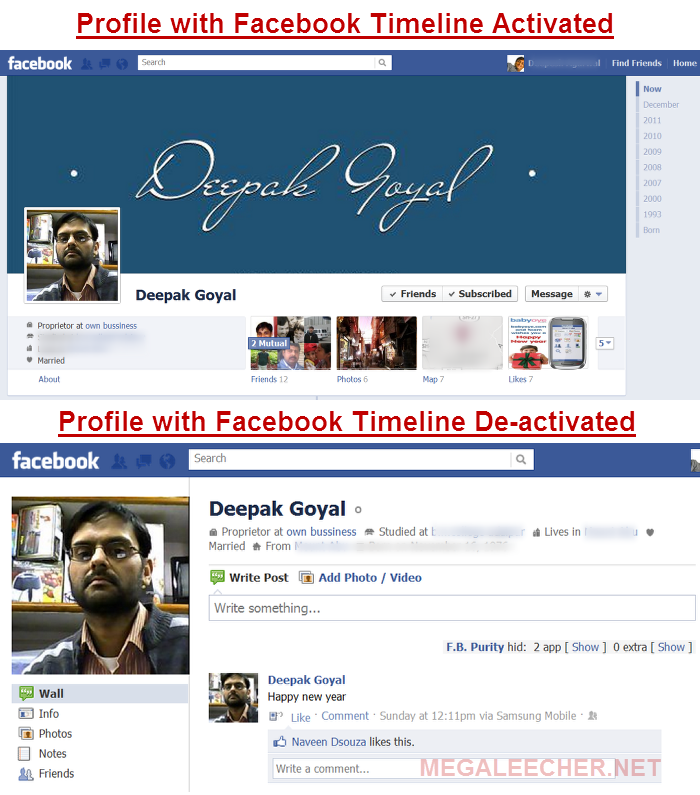 Submitted by admin on Sun, 12/18/2011 - 02:07

We earlier posted the trick on how to get the new Facebook Timeline look before anybody else, now you dont need that trick anymore as Facebook is officially rolling-out the new "Timeline" look to all users - if you are not on the new look yet, simply visit the official Timeline page at - https://www.facebook.com/about/timeline and click on "Get It Now" button.
Submitted by admin on Sun, 09/25/2011 - 15:15
Facebook - the world's biggest social networking website is all set for a major new profile system upgrade, dubbed the "Facebook Timeline" the new profile presentation system allows users to save and share their life timeline easily. Allowing users to "Share" and "Organize" their most memorable posts, photos and life events on their "Facebook Timeline" - the handy feature will let users tell their story from beginning, in-middle, and now.
The new profile display system is currently only available to developers, here are two ways on how to get this feature now officially as well as unofficially.
Submitted by admin on Sat, 07/23/2011 - 10:10
Google+ is the latest social-networking sensation, currently an invite-only network Google+ is getting popular everyday. If you are amongst the lucky few to get an Google Plus invite here is how you can create an personalized profile pic for existing social-networks like facebook, orkut etc. announcing your migration and invite your friends to the new social-network.
Submitted by admin on Wed, 07/20/2011 - 09:54

Google's very own, brand new, social-networking platform Google+ is now live and looks very promising, the invitation only network has now got more than 10 million users and is gaining new users everyday.
We are now able to give-out exclusive free Google Plus invitation to our blog readers, to get started follow the instructions after the jump.