Megaupload Search
Submitted by admin on Wed, 07/16/2008 - 08:24

Megaupload is probably the most popular one-click file hosting service provider after Rapidshare (Alexa Comparison) and like all other similar services imposes downloading restrictions for free users, apart from the 45 second wait-timer, Megaupload also restrict users from non-english speaking countries from downloading files at peak hours with error:

All download slots assigned to your country are currently in use. Please try again in a few hours or install the Megaupload Toolbar for immediate access - with the toolbar installed, there are no more slot limitations for you!
However, megaupload's alexa toolbar is classified as SPYWARE by various security softwares and many users do not prefer to install the toolbar. Their exist several megaupload download hacks to bypass these restrictions but majority of them are outdated and do not work now.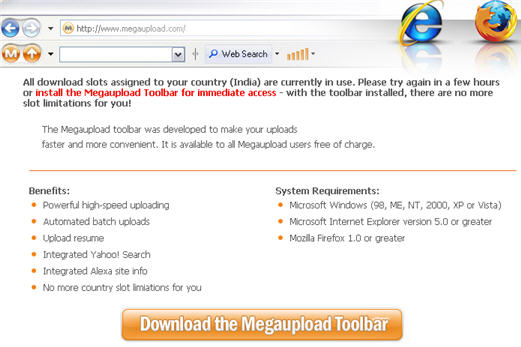 Megaupload Downloader 2008 is a new free utility to bypass restrictions imposed by Megaupload allowing anyone to download unlimited files, the software is easy to use and works similar to your existing browser. You can also search for files on megaupload using the in-built file-search options.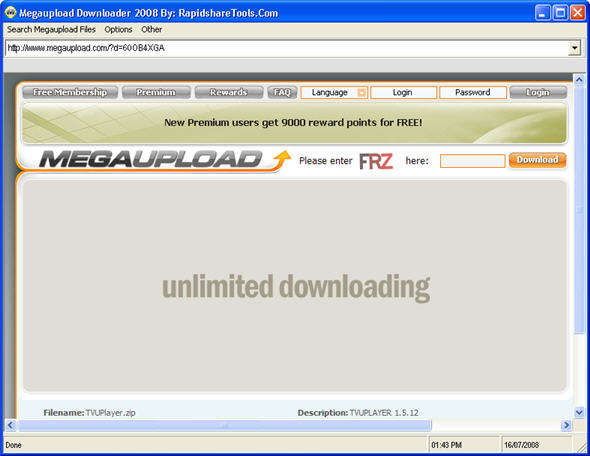 Submitted by admin on Tue, 12/11/2007 - 10:10

RapidShare is the world leader in one-click file hosting arena, despite being the most popular file-sharing service rapidshare.com lacks file search feature, the only reason I can assume they lack this feature is to avoid searching of copyrighted files by their legal owners getting illegally distributed by this pirate friendly file-hosting service. Nevertheless, their exist many services which allow you to search files hosted on rapidshare.com and other major file-sharing services like Megaupload.com, these free file search engines can be used to search for links of software, movies, music and ebooks hosted on rapidshare and similar services.

We have also created free OpenSearch & Google Toolbar plugins for searching rapidshare files from Firefox and IE7 search box, Just click on the plugin links below to get easy access to file-search:
Rapidshare File Search Plugin For Firefox & IE7 >>
Rapidshare File Search Google Toolbar Button For Firefox & IE7 >>
Read More for a list of Top 10 Rapidshare Search Engines...