Best Free VPN
Submitted by admin on Tue, 01/17/2012 - 05:30
PPTP VPN's are popular because of their out-of-the-box native support on most desktop and mobile platforms. And here is your chance to grab one absolutely free as RealVPN is offering 100000 free PPTP protocol based VPN accounts under their limited quantity (100000) BETA registration phase.
Packed with standard privacy, anonymity and internet censorship bypassing capabilities RealVPN accounts support users to connect via their VPN servers located in US, UK, France, Germany and Netherlands.
Submitted by admin on Wed, 03/09/2011 - 13:33

There are numerous free and paid VPN anonymity service providers but only few of them provide reliable service with fast speeds coupled with an easy to use client software, a very rare promo from one such leading VPN service provider Cyberghost VPN is currently available offering free PREMIUM VPN access for 12 months including 2GB of encrypted online data storage.
Apart from the usual anonymous 128-bit AES encrypted connection tunnel, Cyberghost VPN provides the most advanced and feature rich anonymity desktop client application with added features like anonymous email fetching service and online secure data storage space. Having a strong infrastructure of 48 servers spread over various countries CyberGhost VPN is definitely going to provide a very good experience to users.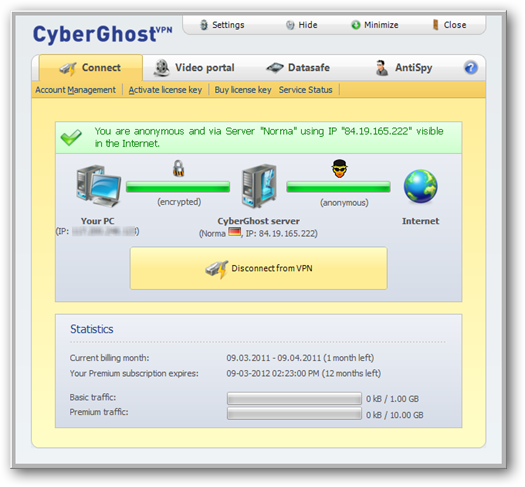 Submitted by admin on Sat, 11/07/2009 - 08:52
If you missed our free AceVPN and Hide IP VPN giveaway you can now enjoy similar anonymity at decent speeds using free VPN service provider - TheFreeVPN, the new free service lets users surf the web privately also allowing them to bypass internet censorship.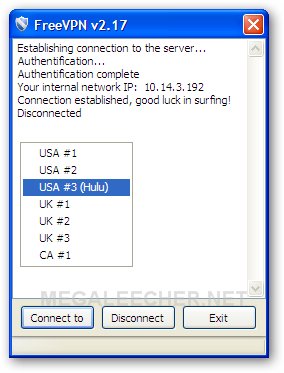 Submitted by admin on Sun, 06/07/2009 - 13:20
We are giving away FREE EXCLUSIVE PPTP based USA/UK VPN accounts, click here.



We have reviewed all major free VPN service providers, but new free anonymity service Ace VPN takes the cake for being the best free VPN service provider out there, the invite only service allows users to enjoy full anonymity and secure data transfer via fast encrypted SSL VPN tunnels located at various servers world-over.

The service is currently under limited availability and requires an invite for participation, we have been provided with 25+ exclusive invites for our blog readers, just follow the steps next to grab your personal invite.
Submitted by admin on Wed, 05/20/2009 - 15:58

Using a VPN proxy is the best option to surf web securely and anonymously bypassing internet censorship imposed by your Government, ISP or institution, while there are lots of paid VPN service providers only few offer a free tunnel, AlonWeb is one such service allowing users to enjoy 1 GB/Month free bandwidth of secure crypted VPN tunnel suitable for casual web-usage.

AlonWeb makes use of free OpenVPN software to work, the service is quite ok in terms of speed and overall usage but injects annoying advertisements to the browsed pages, to start using the service follow the simple procedure next.
Submitted by admin on Tue, 11/11/2008 - 14:36

If your ISP blocks access to certain websites and services or if you are looking to bypass country specific restrictions to use services like Hulu and Pandora, using a Virtual Private Network (VPN) would be the best solution, majority VPN services are paid but today I will be sharing two free VPN services which gets the job done.
AlwaysVPN is a new free VPN service currently in BETA offering secure anonymous connection through their servers via VPN clients for Windows XP, Windows Vista, Mac OS X and Linux (Ubuntu / Debian) , the service seems to allow unlimited traffic as it does not mention any limits on how much traffic can be used, However, advertising is shown on top of every webpage browsed through the AlwaysVPN network.
Not Free Anymore.