Laptop Battery Utility
Submitted by admin on Tue, 02/03/2009 - 15:20
Few days ago I shared a cool free laptop battery power monitor for Windows, here is yet another similar power monitoring utility allowing users to keep an eye on power status with ease providing as much details as possible.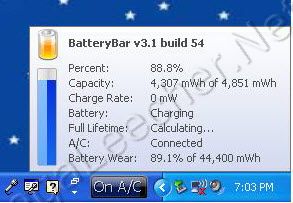 BatteryBar is an simple and useful battery power-meter for Windows, the free utility displays the current battery power-status in the taskbar, the software is smart and calculates the total time-remaining using your battery historical data.

Submitted by admin on Fri, 01/09/2009 - 06:11

Microsoft Windows provide a small power icon to display the battery status in system tray, the small icon provides a rough idea about the amount of power remaining and the user is required to hover the mouse over the icon to get the exact amount in percentage, to make things more noticeable and detailed there exist quite a few battery monitoring software's but all of them take up precious desktop space to display the power status, to solve this problem free utility Power Meter Plus uses a smart approach displaying the power status transparently, the meter gradually becomes more visible as the power levels drop, meaning the lower the power the more noticeable the meter will be.