Internet Explorer 9
Submitted by admin on Mon, 10/08/2012 - 01:08
Microsoft Internet Explorer 9 has been a huge improvement to it's ancestors, it's faster, sleeker, feature rich and good looking. Microsoft advertised IE9 as a faster and future technology proof application with smooth animations and HTML5 magic. Now, here is a funny parody take on that commercial labelled "Internet Explorer 9 Commercial - The Honest version".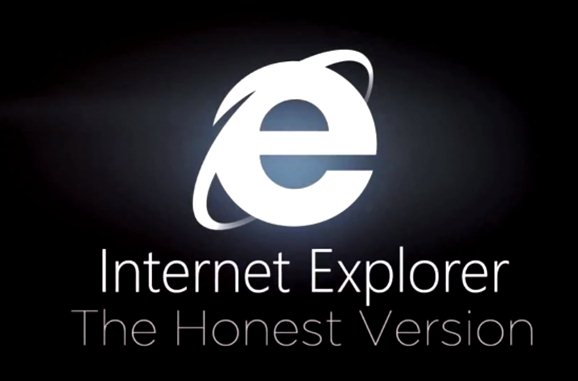 Submitted by admin on Sat, 03/19/2011 - 14:00
Microsoft Internet Explorer 9 has now reached it's Final RTM milestone and is all set for the prime-time, if the brand new user-interface is giving you some tough times figuring things out here is a nifty little tweaker for IE9 letting you tinker those small customization as per your personal preference.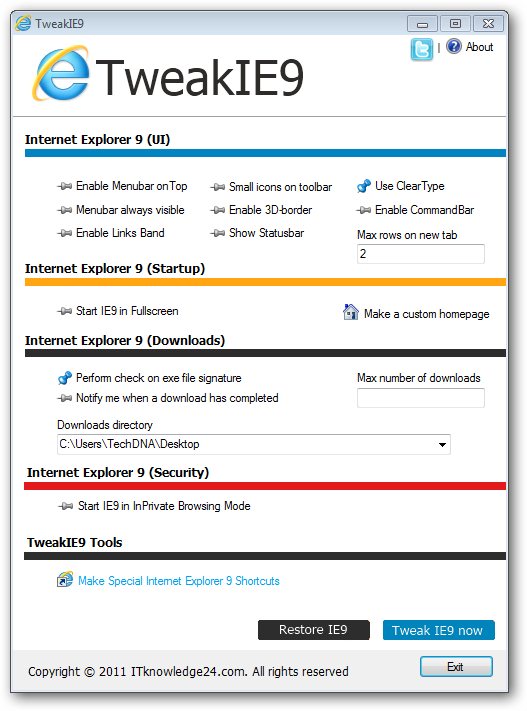 Submitted by admin on Fri, 02/11/2011 - 08:44
Microsoft has finally unveiled another major milestone to final release of Internet Explorer 9 by making IE9 Release Candidate download available for everybody. The "Release Candidate" build features a new ActiveX filtering system which allows users to "turn off ActiveX" for all sites and then re-enable it on site by site basis, on the UI part users can now have tabs on a separate line from address bar, apart from these changes many improvements were done in overall web-browser performance, standards & platform support, user experience and security as detailed next.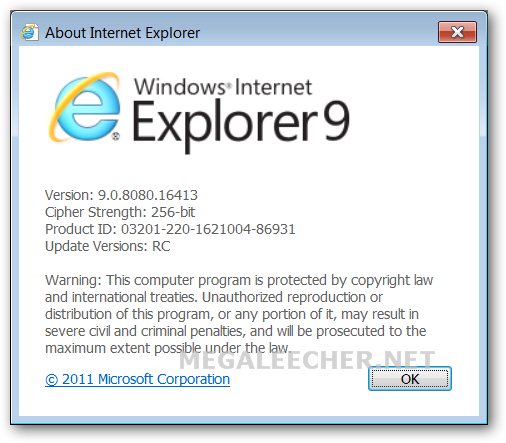 Submitted by admin on Tue, 01/25/2011 - 13:55
Any new leaked build of Internet Explorer 9 makes news across blogsphere, unlike previous leaks after IE9 Beta brand new build "Internet Explorer 9.00.8073.6010" has not made it's way to public but a Russian website Winreview.ru has leaked current screenshots showing notable UI changes.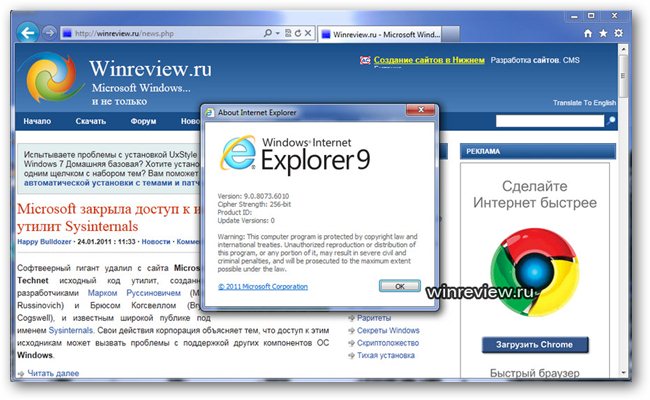 Submitted by admin on Wed, 11/24/2010 - 07:19

After Internet Explorer 9 first beta a third-party site claimed to have possession of an Microsoft internal Internet Explorer Post Beta Build 9.0.8002.6000 and posted screenshot teasers but the installer never got leaked to public, now the rumor mill is once again hot about an eminent IE9 Beta 2 public release after "Internet Explorer 9 Leaked Beta Build 9.0.8027.6000" made it's way out to torrent-portals and sites like Rapidshare, Hotfile and megaupload for mass consumption. This new build includes new bug-fixes, stability improvements, speed enhancements using updated latest rendering-engine and as evident from digital signature seems to be compiled on November 19.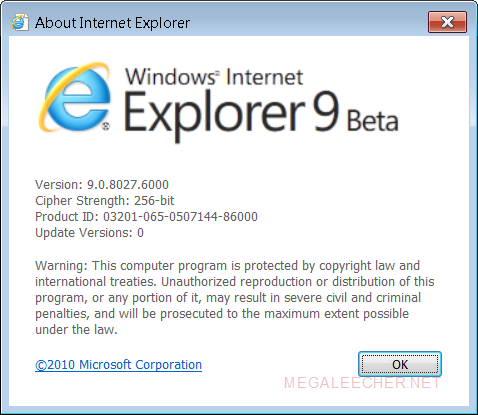 Submitted by admin on Sat, 10/23/2010 - 14:55
Internet Explorer 9 Beta received some great reviews and everybody is excited for the next release. After the first public beta release of Internet Explorer 9 Build 9.0.7930.16406 no major development has been announced by Microsoft, and to keep everyone excited a third-party source has now posted images of Internet Explorer 9 Post Beta build 9.0.8002.6000.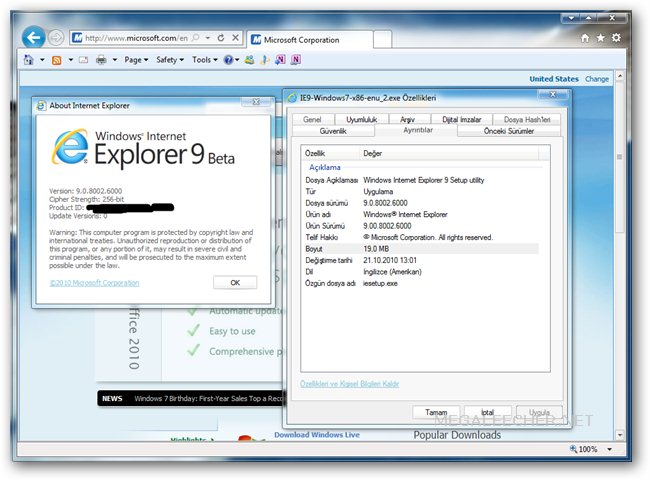 Submitted by admin on Thu, 09/16/2010 - 11:01

Internet Explorer 9 Beta is finally here and after playing with it for a while all I can say is "really impressive", Microsoft has done there homework and the result is a next generation, powerful web-browser ready to take-on the competition. The layout is perfect, speed is awesome and has every aspect of a modern web-browser to make it the user default choice.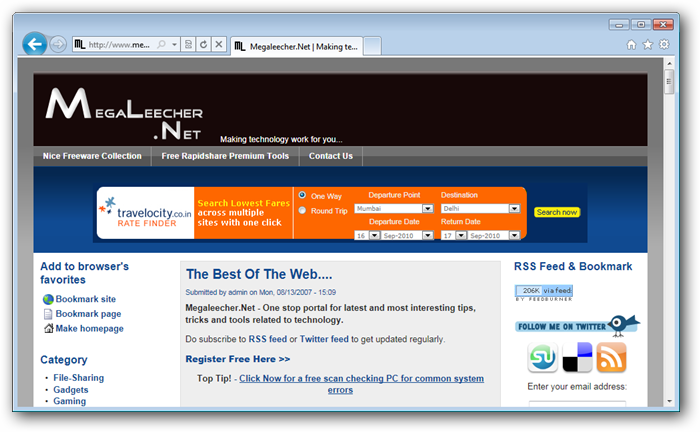 Submitted by admin on Wed, 09/15/2010 - 18:01
The IE9 Beta installer is now officially available for public download and can be grabbed from the direct download links provided below, the web-installer stub is just 2.37 MB in size which downloads the remaining setup files (roughly 24 mb on Windows 7 32bit) and surprisingly requires a system reboot to install (the only web-browser to do that).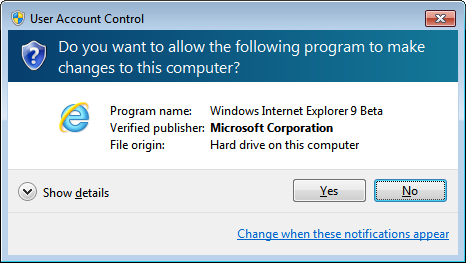 Submitted by admin on Wed, 09/15/2010 - 12:54
As scheduled Internet Explore 9 Beta launch event is hours away, it is crucial to see how IE9 Beta performs on user expectations deciding the future of web-browser wars. If you are keen to watch the launch event online you can tune into the live webcast streaming at the links provided below.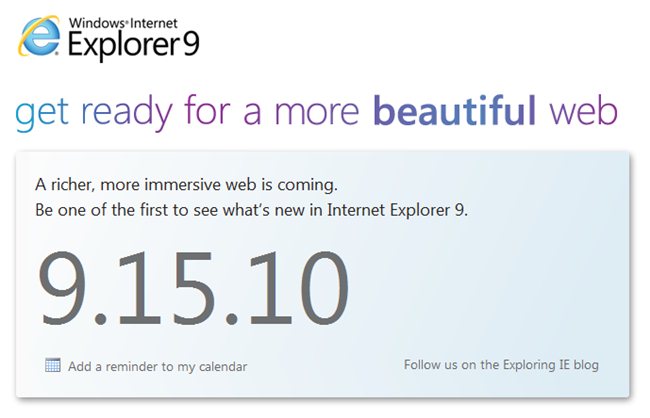 Submitted by admin on Wed, 09/08/2010 - 04:15
First public beta of Windows Internet Explorer 9 is going to be released in 7 days from now on September, 15, but it seems the IE9 Beta Installer is now leaked outside Microsoft as a website claimed to have the setup also posting the video below demoing the release.