BSNL 3G Internet
Submitted by admin on Sat, 12/26/2009 - 14:43
Few days ago I shared a post on how to activate and setup BSNL 3G on your mobile phone, however, if you are using Apple iPhone 3G/3GS then sadly BSNL does not provide you any automated method to configure iPhone specific 3G settings, sending an SMS with iPhone as phone model to receive configuration settings result in the reply below.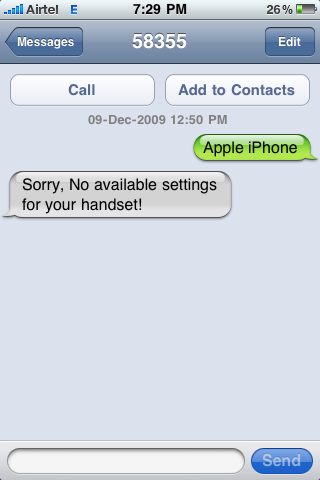 After lots of tinkering I was able to get BSNL 3G working on my Apple iPhone 3G and surprisingly all it needs is a single APN value to get configured as demonstrated below.
Submitted by admin on Thu, 12/17/2009 - 13:16
While the auction of 3G spectrum is still to happen for private telecommunication players in India, state owned telecom operator BSNL is slowly rolling out their 3G services across cities and towns across the country. If you are from the lucky few cities and towns where BSNL 3G service is available here are all the information you will need to get started with 3G internet on your supported devices.
Basically, you will be needing a 3G supporting Cellphone or Data-card (eg. Micromax 3G Data-card) with an activated BSNL 3G SIM card with proper recharges to use the service, do keep in mind that you can migrate your existing 2G BSNL SIM-Card to 3G plans with a Re. 1/- recharge but this is not advised as it will wipe-out all your existing enrolled special-tariff schemes and validity promos - you can get a new 3G SIM for just Rs. 59/- and an 3G activation top-up of Rs. 120/- under a special promo till 31-12-09 which also provides you following benefits.