If SkyDrive's 5 GB of free online storage is not enough for your needs, here is another free online storage service from MediaMax, providing you a very generous 25 GB (catch being only 1 GB/Month download with 10 MB file-size limitation) of secure online storage facility absolutely free.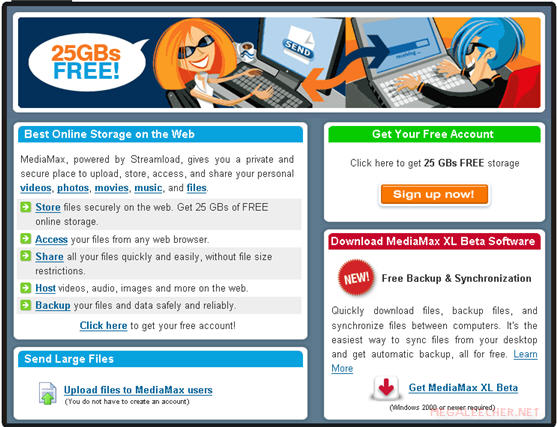 MediaMax provides you free secure online storage to upload, store, access, and share your personal videos, photos, movies, music, and files, uploaded content can be accessed anytime, anyplace using just a web-browser, using the optional free software utility "MediaMax XL Beta Software" you can also perform batch upload, download and automated backup operations right from your desktop.
MediaMax XL Beta Software is a Windows application that automatically backs up your files from your computer to your private and secure MediaMax account. MediaMax XL is the latest and greatest in desktop applications and it is the new must-have for managing your digital lifestyle. And did we mention that it's free?!

Use the MediaMax XL Beta Windows application to:

* Batch Upload
* Batch Download
* Backup Files

MediaMax XL Beta automatically performs regular backups of designated folders on your PC. It is also a fast and easy way to upload multiple files to your MediaMax account, and download multiple files from your MediaMax account to your computer.
Visit MediaMax >>