Reliance recently launched their BIGTV DTH service providing another competitive option to Indian TV subscribers, now Indian telecom major Airtel has also came up with their own direct-to-home (DTH) service dubbed - 'Digital TV' making it the sixth DTH service provider in India after Dish TV, Tata Sky, Sun Direct, DD Direct Plus and Reliance Big TV, initially the service will be available in 62 towns across the country offering 175 channels.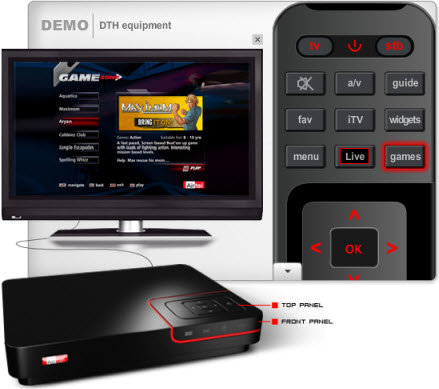 One the most interesting feature of Airtel Digital TV is the inclusion of programmable universal remote allowing users to manage TV and Set-top Box with a single remote, the service uses superior MPEG4 standard with DVB S2 technology making it HD ready like Big TV.
Universal remote control inclusion.
Integrated World Space radio service for high quality music.
Highest Set Top Box memory allowing more interactive applications.
Automatic volume gain control ensuring uniform audio levels across all channels (already supported in new TV models).
On screen account meter - keep track of monthly expense
Several interactive service like cinema ticket booking, travel holiday packages, tele-shopping, get city information guides and even Airtel Live.
As an introductory offer Airtel Digital TV Silver Pack with 65 channels will cost Rs 2000/- for 12 months, the monthly tariffs would range from Rs 125 to Rs 424.