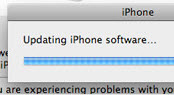 All new iPhone Firmware Update 2.2 loaded with new features, enhancements and bug-fixes is rumored to get released on 21 November 2008, Already available to BETA testers if released this update would be the next major update for iPhone after iPhone Firmware 2.1.
As discussed earlier on this blog the firmware update will bring new features to iPhone such as - Google Street View with transit information including walking directions, button to enable or disable Auto-correct keyboard, new Safari's Google search bar, and few minor GUI tweaks to the App Store, However, there are no signs of much awaited and requested "Copy and paste" feature yet.
As usual when released users will be able to update their iPhone and iPod Touch firmwares using the "Update" feature in iTunes.