If you have already tried fixing CD/DVD scratches without any success or partial success, and are still unable to copy important files and folders from damaged media, try Unstoppable Copier - the small and portable Windows utility lets you recover maximum possible data from media having bad sectors, scratches or any other reason giving errors while reading data.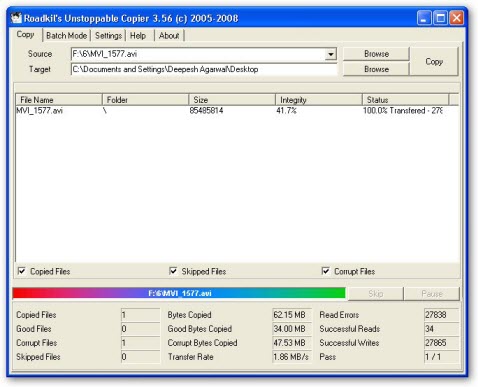 The program tries to read all possible data smartly skipping unreadable sectors, Using this method most types of files can be made usable even if some parts were not recoverable in the end.
Support for batch process for automating the programs use and save copying/restore jobs.
Configurable level of data recovery from Slowest mode to enable very intense data recovery through to Fastest mode for skipping damaged files completely.
The data recovery process can be paused and resumed mid file.
Logging can be enabled to record details on transfered files, their integrity and offsets of any errors.
Multi-lingual support for English, Spanish, Russian, French and German languages.
The free software is just 79 KB in size and requires no installation, the software is fully compatible with Windows XP, Windows Vista, Windows NT, Windows 9x/Me and Windows 2000.