MindGems Inc. is giving away 10 licenses of Visual Similarity Duplicate Image Finder PRO (VSDIF) Exclusively to our readers.
VSDIF is rated the best duplicate image finder on major photography and software magazines and web sites.


What is so special about Visual Similarity Duplicate Image Finder?
As the name already suggests this tool can find duplicate and similar images based on content analysis regardless of the image format, size, dimensions, colors and so on. What this means is that even if you have copies of the same image with modifications applied to it like color correction, crop, retouching, change of file format or watermarks it will still be identified as a duplicate of its original image.
The main three benefits from using this tools are:
Organize your image collection
Save valuable disk space by removing duplicate images
Search for similar images inside your image collection by sample image
The tool support all the popular image formats (jpg, jpeg, jpe, gif, png, tif, tiff, fax, g3n, g3f, jp2, j2k, jpc, j2c, tga, targa, vda, icb, vst, pix, pcx, bmp, dib, rle, wmf, emf, ico, cur, wbmp, pxm, ppm, psd), plus more than 300 RAW camera formats ( *.crw; *.cr2; *.nef; *.raw; *.pef; *.raf; *.x3f; *.bay; *.orf; *.srf; *.mrw; *.dcr; *.sr2; *.dng; *.erf; *.mef; *.arw). For complete list of all supported image formats please check the company's web site as a subset of the most popular formats that it supports is included here
The scan process is pretty straightforward and consist of adding the folders to be scanned in the folders list at the right pane, choosing a scan method and similarity percentage and hitting the "Start Scan" button. Below are noted some of the key features and important options of VSDIF in order to get the maximum out of this tool.
Once you add the folders to be scanned there are some handy options that you can tweak. In the folders panel you can exclude some folders from the auto-check feature. This is handy if you would like to preserve the files in some "'source"' folder(s). You can also "Disable Self-Scan" for certain folders which means that files inside will not be compared against each other. This is a neat feature if you want to compare folder A against folder B.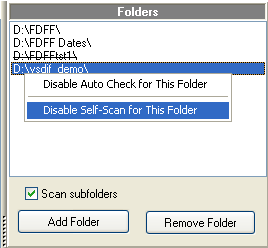 Scan methods are "Visual Compare", "Hash (100% identical files)", "File size", "EXIF Date Time". The first method is the most powerfully feature of VSDIF and requires a percentage of similarity to be set that will be used as a threshold when identifying duplicates. The next two methods are pretty explanatory and we will not focus on them. The fourth method "EXIF Date Time" is also a neat feature for photographers. What it does is to find images that are taken in burst mode or in other words identifies files that have date and time closer than a specified period of time. This means that if you set a threshold of 5 seconds all the images that have time stamps closer to each other than this threshold will be grouped together in the results. VSDIF is a "Must Have" tool for the disk cleanup process.
When the scan process is complete Visual Similarity Duplicate Image Finder will list all the duplicate files sorted by groups of two or more files in alternating colors. All the information is neatly listed in columns that can be rearranged in order to suit your preference.
The tool provides a handy auto-check feature that can mark files based on date, size, age, type, dimensions and more.
Your default file viewer can also be invoked via the VSDIF context menu or the file can be located in Windows Explorer. An in-program rename option is also available.
Once you are done with the review of the results you can choose whether to move the files to a certain folder (backup), delete them to the recycle bin or completely remove them from your hard drive. If your files are organized in folders VSDIF will also maintain the folder structure of the moved files in the target location.
The other important feature of VSDIF is the Image Search:
The purpose is to find images based on a pre-loaded sample(s). In order to use it the folder to be searched should be added in the folder list. The feature is activated via the "Search For Images" tool button that presents the dialog above. Here the images to be found are loaded and hitting the "Search" button lists all the similar image in the main windows list.
Cleaning up duplicate images can save you gigabytes of valuable disk space and using such tool is a must.
You can download the demo version of Visual Similarity Duplicate Image Finder for free here:Find Duplicate Images.
The Visual Similarity Duplicate Image Finder PRO costs $39.95 to buy, we have been provided with 10 exclusive PRO licenses for our blog readers so if you are interested in it do post in the comments below to get a chance to win a license. Winners will be chosen on random basis among all the commenters. End date for this giveaway is 15 FEB 2013.
Winners announced, contact us or comment below to get your activation keys.