With growing mp3 music collection we often end-up with duplicate tracks taking-up space on our disk-drives, some of the files we have copied, some of them we have downloaded multiple times and some we have converted from other sources. De-duplicating your music collection and maintaining it in order manually requires hours or even days of work to check all the folders and keep the ones with the best quality, luckily we have automated software to do this task with ease.
One such commercial application is Audio Dedupe which can handle this situation easily and precisely, the software is capable of recognizing duplicate audio files even if they are not marked with ID3tags and are stored in different file formats. This is not just a standard duplicate file finder as Audio Dedupe will actually listen to the music files and recognize if the song is the same as the others stored in different formats. It can check MP3, MP2, MP1, MPA, WAV, OGG, AIFF, AAC, MP4, FLAC, AC3, WavPack (WV), Musepack (MPC) and Windows Media Audio (WMA) file formats and allows you to clean up the duplicates to save valuable drive space.
Once you add the folders to be scanned you can choose the similarity percentage in order to narrow or broaden your search results and start the scan. In the folders panel you can also exclude some folders from the auto-check feature. This is handy if you would like to preserve the files in some "'source"' folder(s).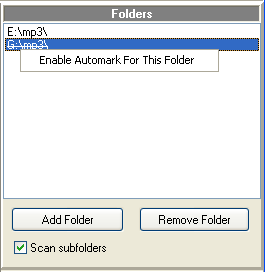 Though the application processes huge amounts of data surprisingly the scan took only 2-3 minutes for 20 GB having 1500+ audio files that we tested, When the scan process is complete Audio Dedupe lists all duplicate audio files sorted by groups of two or more files in alternating colors. All the information is neatly listed in columns that you can rearrange in order to suit your preference.
The tool provides a handy auto-check feature that can mark files choosing files with lower bit rate(quality), shorter duration, older date or smaller size for deletion, You can also listen to the files using the internal audio player which has a continuous playback feature that lets you switch between the duplicates while they are playing in order to easily compare the quality and decide which one to keep.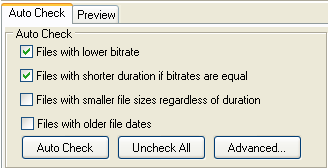 Once you are done with the review of the results you can choose weather to move the files to a certain folder (backup), delete them to the recycle bin or completely remove them from your hard drive. If your files are organized in folders Audio Dedupe will also maintain the folder structure of the moved files in the target location.
It is easy to keep your audio collection clean as Audio Dedupe will also remember the already scanned songs and every consequential scan will be even faster. Cleaning up duplicate audio files can save you gigabytes of valuable disk space and using such tool is a must.
Find all similar or exact duplicate audio files in user specified folders using audio compare of the file contents
Find exact duplicate audio files using fast hash checksum algorithm
User can adjust the percent of audio similarity
Lower bitrate audio files can be automatically marked for deletion
Shorter duration audio files can be automatically marked for deletion
Smaller filesize audio files can be automatically marked for deletion
Older audio files can be automatically marked for deletion
Integrated audio player to preview the audio duplicates
User can manual select the duplicate audio files for deletion
Duplicate audio files can be moved to Recycle Bin, custom folder or deleted permanently
Supports MP3, MP2, MP1, MPA, WAV, OGG, AIFF, AAC, MP4, FLAC, AC3, WavPack (WV), Musepack (MPC) and Windows Media Audio (WMA) file formats
Has intuitive interface and rich documentation
Audio Dedupe is not free and costs $29.95 to buy, we have been provided with 5 free exclusive licenses for our blog readers so if you are interested in it do post in comments below.
You can download Audio Dedupe for free here:Duplicate MP3 Finder.