Due to the huge interest in the past for the products provided by MindGems Inc., Megaleecher is once again organizing a giveaway. This time we provide 10 licenses worth $300 for Easy Screen Capture And Annotation.
Easy Screen Capture And Annotation is a powerful utility for creating and editing screen captures.
The tool can capture and annotate any part of the screen. It provides many annotation objects like callouts, arrows, highlights and others that will help to clarify the captured content. There are also effects like pixelize and blur that can be used to hide sensitive information. It provides project files which is very convenient for projects where the background changes while the annotations should stay about the same. This could be for example a screenshot with information about an application, a tutorial and so on. Multiple screenshots can be combined and manipulated inside a single project as the tool provides vector-based editing. This means that unlike raster-based tools like Microsoft Paint, the objects that are added in ESCAA can be moved, resized, edited, deleted without loosing quality.
Captured images can be saved, sent by email or directly uploaded to the web in order to send a link to a friend or colleagues via instant messaging applications.
Free Image Hosting Included Powered By:

Multiple capture options are available:
Full Screen
Active Window
Active Window Without Borders
Rectangle - allows you to select rectangular part of the screen using the mouse
Window or Control - will let you capture a certain part of the application - button, toolbar, system tray etc.
Scrolling Window - will capture the entire area of a scrollable window by automatically scrolling
Color - will capture any color on the screen setting it as foreground color and copying its value in the clipboard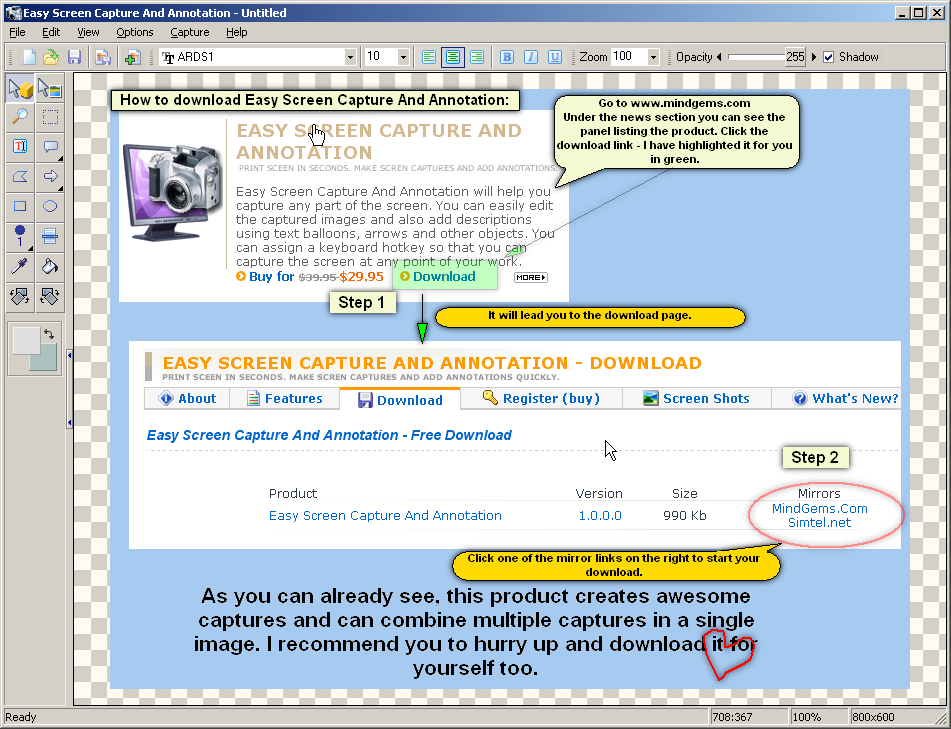 MindGems Inc. develops innovative corporate and end user software products.
They are used in demanding environments and have proven to be among the most stable and feature-rich on the shareware market. The company uses various contemporary development technologies in order to provide products that vary from small desktop applications to large corporate solutions. MindGems provides also several popular free disk cleanup tools that you can find at their web site: http://www.mindgems.com/
Easy Screen Capture And Annotation costs $29.95 to buy, we have been provided with 10 exclusive licenses for our blog readers.
How to enter this giveaway?
Please use the widget below. There are multiple ways to enter the giveaway. The more entries you make the higher chance you have to win. Winners will be chosen on random basis. End date for this giveaway is 8 DEC 2014.