Just days after an update to Android Market users can now enjoy another new update as Google Mobile Maps 5 featuring cool new additions like 3D maps, offline maps and rerouting is live in Google Android Market. A detailed list of new features and improvements with high-quality screenshot is available after the jump.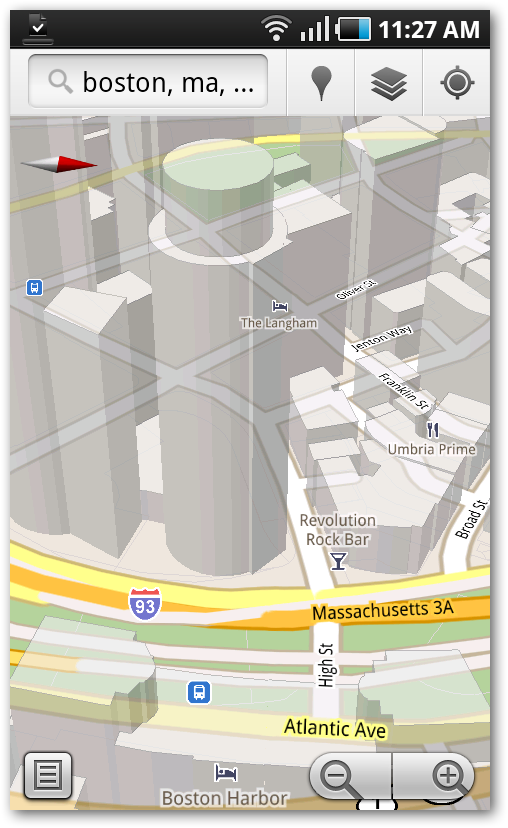 3D Maps with new ways to interact supporting tilting and rotating - Now users can zoom in on 100+ cities around the world supporting 3D buildings, users can use Two finger drag down/up to tilt the 3D map and twist using two fingers to rotate the map and view it from any direction.
Compass mode - Orient yourself on the map. Center on your location and tap the compass button. The Map flips into 3D and automatically rotates to whichever direction you're facing.
Smooth zooming - See the map at the exact zoom level you want. Move two fingers together or apart. The map and labels zoom continuously with your fingers.
Offline reliability - Maps of the areas you use the most get preloaded in the background so you can see and interact with the map, even if you lose your connection temporarily.
Offline rerouting - Google Maps Navigation (Beta) automatically reroutes you, even if you lose your connection after starting a route.
Samsung Nexus S
Samsung Galaxy S
Motorola Droid/ Droid 2/ Droid X
HTC Incredible
HTC Incredible
HTC EVO 4G
HTC G2
HTC Desire
Sony Ericsson X10
LG Ally
HTC Nexus One