We have shared many free automated downloaders for various file-hosters like Rapidshare and Megaupload, but today I will be sharing a pretty unknown utility supporting fast and easy automated downloads from many file-hosters, RDesc is a new software supporting automated simultaneous downloads for free users from file-hosting services like Hotfile, 4Shared, Mediafire, Netload, ZShare, DepositFiles, Easy-Share, Gigasize, Rapidshare and Megaupload.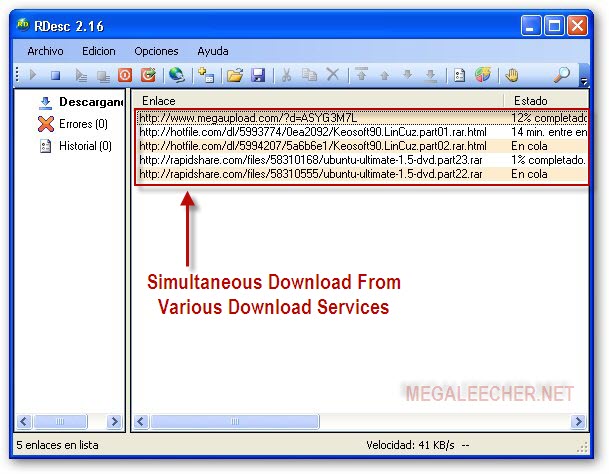 RDesc is very stable and well supported with active development ironing out bugs and adding new features every few days.
Simultaneous automated downloads from various file-hosters.
Bulk link adding feature allows you to grab all links from a webpage.
Inbuilt feature for automated router reconnection needed for getting fresh IP to bypass download limits.
Auto-captcha decoding.
Full download details and log.
Sadly the application is currently available in Spanish language only but you can still get the job done easily, I am pretty sure the authors will get this translated to English to reach wider audience.
Download RDesc Portable [2262 KB] (Requires Microsoft .Net Framework 3.5) >>