We have jailbreaking for iOS and rooting for Android to perform amazing customization, hacks and side-loading of applications which aren't allowed in the official Marketplace due to use of restricted APIs and low-level hacks, to get the homebrew scene started on another front first ever jailbreak/unlocker for Windows Phone 7 is out now available for downloading.
Named "ChevronWP7" the simple to use utility promises to start a new era of side-loaded Windows Phone 7 development, allowing developers to not only develop on the platform without a WP7 marketplace account costing US$99/year but also make use of non-public API's pushing the boundaries to customize, tweak and hack their devices at low-level.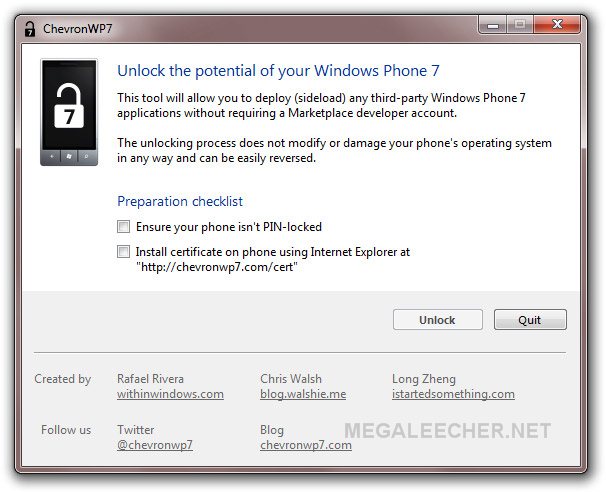 With release of this new jailbreaking software for Windows Phone 7 users can soon expect to have the pandora box of un-offcial applications, ringtones, themes, hardware search button, WiFi hotspot hacks, tweaks etc. open for consumption.
Using ChevronWP7 is also very easy - users just need to connect the phone to PC via USB, install a security-certificate via on-phone Internet Explorer and let the application do the magic. The good part is since the application does not damage or chnage any operating-system files the process is fairly simple and easily reversible.