EVDO is the 3G internet access technology for CDMA platform, the Evolution-Data Optimized(EVDO) technology offers mobile broadband speeds upto 3.1 Mbit/s.
I have been providing internet access to my Raspberry Pi via an TP-Link WiFi 3G Router, however we can directly connect a GSM/EVDO 3G dongle to any Linux computer and make it act like a WiFi access point using Linux utilities like WICD Network Manager. Configuring a EVDO modem to work on Linux can get a bit tricky, here is a simple to follow howto guide on setting things up.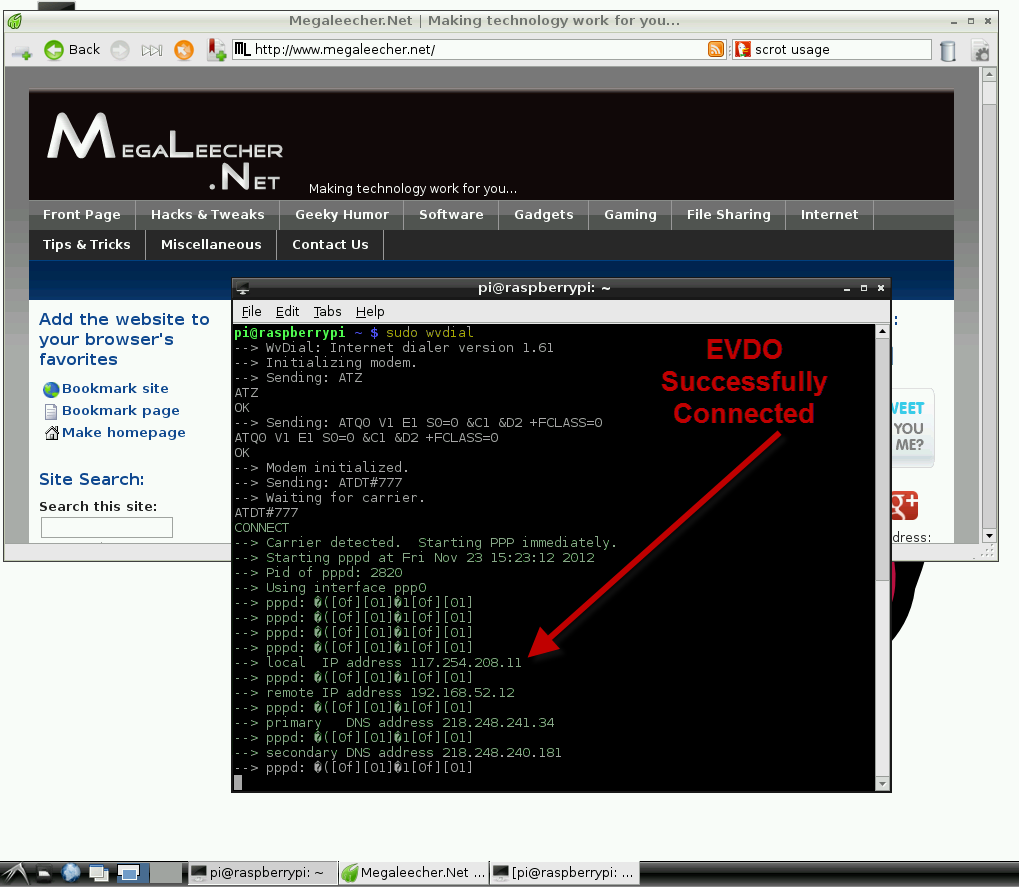 Install required software's using sudo apt-get install -yq usb-modeswitch usb-modeswitch-data wvdial command at Terminal.
Now use lsusb command inside terminal to get your hardware manufacturer and product Identification strings as shown below.

As shown and highlighted above my modem has vendor id as 05c6 and product id as 6000.
Now, we will use modprobe at terminal with our vendor and product id prepending '0x' to both of them. In my case this would be - sudo modprobe usbserial vendor=0x05c6 product=0×6000

We will be using WVDIAL utility to connect using our modem, configure it by editing the /etc/wvdial.conf with content as below (make sure to change your username and password).

[Dialer Defaults]
Init1 = ATZ
Init2 = ATQ0 V1 E1 S0=0 &C1 &D2 +FCLASS=0
Modem Type = Analog Modem
Baud = 460800
New PPPD = yes
Modem = /dev/ttyUSB0
ISDN = 0
Phone = #777
Password = YOUR_USERNAME
Username = YOUR_PASSWORD
stupid mode = 1

Everything is setupped now, just use sudo wvdial to connect.

To disconnect an active connection, use CTRl+C key combo.