Samsung exclusively focused on only major new features while recently announcing their flagship smartphone model - the Galaxy S4. However, this smartphone features a lot more sensors and innovative new functionality under the hood. Here is a comprehensive list of new innovations and sensors this phone possesses which missed the initial media coverage.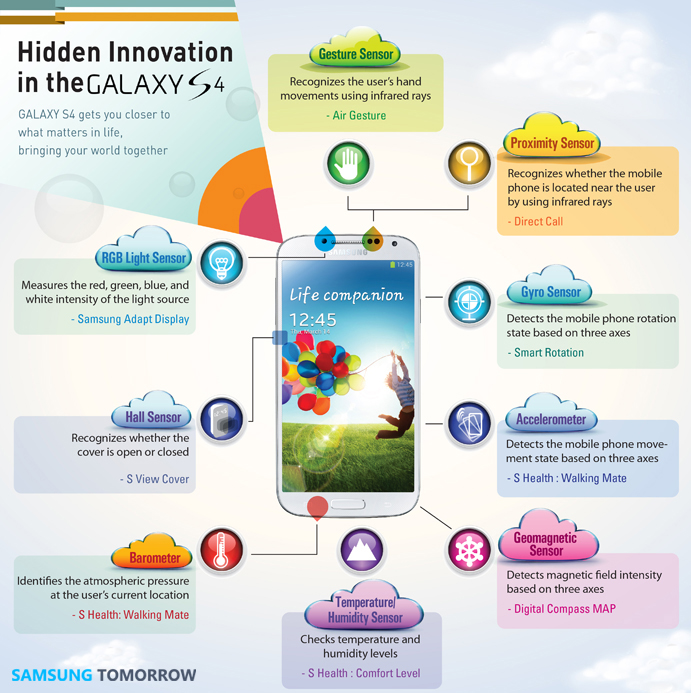 The smartphone can easily be honoured the smartest phone of all as it is able to detect and interact with a user's face, voice, motion, and the surrounding environment. The "most sensible smartphone" includes :
Temperature, Humidity and Barometer Sensor – provides vital surrounding environment data.
RGB Light Sensor (Samsung Adapt Display) – Measures the red, green, blue, and white intensity of the light source.
Gesture Sensor– recognizes the user's hand movements using infrared rays
Face Recognition- used for Smart Pause, and Samsung Smart Scroll as reviewed earlier.
Finger Hovering- measures electric currents that change when the user's hand is in close proximity to the touch screen.
The usual Accelerometer, Proximity Sensor, Geomagnetic Sensor (Digital Compass MAP) and Gyro Sensor (Smart Rotation).
Supports 802.11ac 5th generation Wi-Fi standard with theoretical one Gigabyte per second Bandwidth.
Mobile High-Definition Link (MHL) version 2.0 which allows consumers to connect mobile phones, tablets and other portable consumer electronics (CE) devices to high-definition televisions (HDTVs) and audio receivers.
Emergency Snap Shots features simultaneously clicks photos using the front and rear camera and send them to your predefined emergency contact numbers.
Exynos 5 Octa with Wolfson WM5102 audio chipset for best audio quality.
Even tougher Gorilla Glass 3.
Hyper sensitive touch to let users use there device with gloves on.
Mobeam feature which uses an existing light source on a mobile phone to mimic the black-and-white pattern of a standard barcode. Instead of reading the reflection from a printed barcode, the scanner "sees"" the blinking light—with the same result. This allows Mobeam-enabled phones to be read by any POS laser scanner.
We would love to read your comments on what do you think about these new Galaxy S4 features, do you think these sensors and features are useful or are they just marketing gimmick as blogged earlier.