We offered an EXCLUSIVE giveaway for TuneUp Utilities 2011 just days after it's initial launch but sadly only 3 licenses were up for grab, if you missed the opportunity here is your chance to grab a fully-functional copy of TuneUp Utilities 2010 for free with 100% genuine license key for everybody.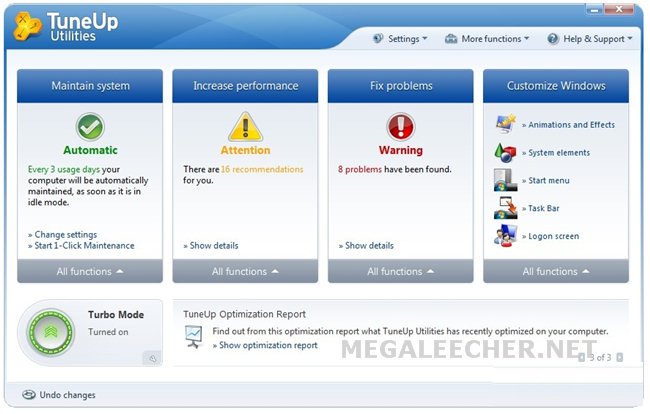 TuneUp Utilities 2010 has all the tools required to optimize and maintain your computer, making Windows faster, secure, and comfortable to use. All important aspects of system configuration, security, cleaning and maintenance are combined under an easy-to-use modern graphical user interface.
Download and install TuneUp Utilities 2010 Installer (German) from here.
Visit the promo-page and enter your email (two times as shown below).

You will receive an email with activation link, click the link.

The activation link will display your personal activation license key-code which you need to use and activate your free complimentary copy.
The promotion is for German version only as reported by our readers and the setup links are now being updated accordingly.
UPDATE # 2 Thanks to our reader shawn poole's comment here is how you can change TuneUp Utilities 2010 German version to English :
After an successful installation of the German version, download English language file from - http://mir.cr/1WFJPP2C, extract it and there will be a folder "en-US".
Now we need to find and remove "de-DE" (German) folder and copy folder "en-US" (English) in the same parent folder.
Goto TuneUp Utility Language Folder :
On Windows XP, the parent language folder can be found at :
C:\Documents and Settings\All Users\App Data\TuneUp Software\TuneUp Utilities 2010
On Windows 7, the parent language folder can be found at :
C:\ProgramData\TuneUp Software\TuneUp Utilities 2010
Now we need to tweak some registry, Open Registry Editor (Windows key + R, enter regedit then press Enter) and find key "HKEY_LOCAL_MACHINE\SOFTWARE\TuneUp\Utilities\9.0"
Rightclick on value "UlLanguage", click on Modify, change value de-de to en-US
Restart Windows and enjoy the English version!