The significance of data recovery software and tools for Windows and other storage devices cannot be ignored. There are times when you accidentally delete or lose data from your computer, laptop, a phone or from a digital camera, and you find it impossible to retrieve it. This is where a data recovery software can help you.
The Wondershare data recovery is a complete all-in-one software that has the potential to retrieve data from a whole lot of storage devices such as a computer, flash drive, removable disks, laptops, memory cards and what not. This simple-to-use software has everything that you need.
Wondershare Data Recovery for Windows comes loaded with tons of features. Some of the major features, that make it superior to its counterparts, are stated below.
Supports multiple devices: Though it is advertised as a data recovery software for Windows but it is much more than that. It can recover data from pretty much any storage device that you have including (but not limited to) SD cards, flash drives, hard disks and more. The software, however, is downloaded on your computer.
Supports more than 500 file formats: It supports hundreds of files formats which means it can recover a whole lot of files, even the ones with the weirdest extensions such as SIT, AAC, ERF, INDD and much more. The thing is you can recover pretty much any type of file format with Wondershare Data Recovery for Windows.
Superior security: It is one of the few data recovery tools which is read-only making it absolutely risk-free. It doesn't read any of the files and doesn't know what it is recovering, so you can trust Wondershare Data Recovery for Windows.
A problem solver: It recovers deleted files, files damaged by a virus on your device, and even files that are inaccessible. It is a real problem solver by Wondershare that recovers all types of files irrespective of how you lost them.
User-friendly: An extremely easy-to-use software with user-friendly interface and simple operation. Anyone can use it to find lost files including your nine year old.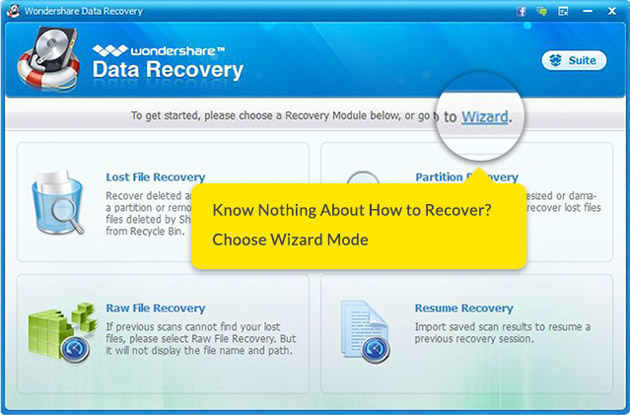 Easy-to-use software with a user-friendly interface.
It is a read-only tool and this is what makes it a perfect solution for those who want to retrieve confidential deleted files.
It supports a lot of file formats which means you can recover all types of file formats without much hassle.
Works with all the data storage devices ranging from memory cards to USB devices to camcorders and more.
It has four types of data recovery modes including lost file recovery, raw file recovery, partition recovery, and resume recovery.
Very affordable.
Wondershare Data Recovery for Windows comes with a free trial but unfortunately, it doesn't allow you to actually recover any files during the trial. It only shows you the files.
Wondershare Data Recovery for Windows is one of the most reliable and secure data recovery tools for Windows and their Mac equivalent is equally powerful and feature rich. Perhaps the best thing about it is it's read-only feature. The software doesn't read the files which it recovers or scans. Your data always remains safe.
You can download and try it for free to get an idea as to how it operates. However, if you are interested in recovering files, you have to purchase it. To be honest, it is extremely cheap so it doesn't hurt your pocket much. Customer reviews like this - "Wondershare Data Recovery is the best recovery software out there!!! I tried recuva and almost gave up on my lost wedding pictures from my memory stick. Tried wondershare, paid 20quid and wala!!! My pictures reappear! cheers guys!" further strengthens the worth of this software.
Data recovery is not an issue with Wondershare Data Recovery for Windows & Mac.