PDF Editors are great tools that create a variety of prospects for people who work with PDF files. However, finding a suitable all-in-one PDF solution is not an easy task that offers a seamless experience for newcomers as well as experienced users. There is a wide variety of PDF software solutions available in the market but many of them are either very expensive or difficult to use.
Keeping in view the need for a comprehensive package that is a great solution for both newbie and experienced users, Wondershare developed PDFelement. PDFelement is a powerful tool with a set of fine features and an intuitive user interface. It is very easy to use and just after a few minutes of its use; you will be used to this PDF editor.
PDFelement 8 is the newest version of the PDF element and is created with simplicity in mind. It is an affordable PDF editor for desktop and mobile that allows users to edit, create, convert, and sign documents. It is a perfect choice for those who can't much money buying complex software solutions. PDFelement 8 is the upgraded version of PDFelement 7 for Windows only and mac users still use version 7.
An intuitive user interface
The PDFelement 8 comes with a new and beautiful user interface that is developed with great simplicity. This fresh and new look of the start screen offers a more user-friendly interface and ease of navigation.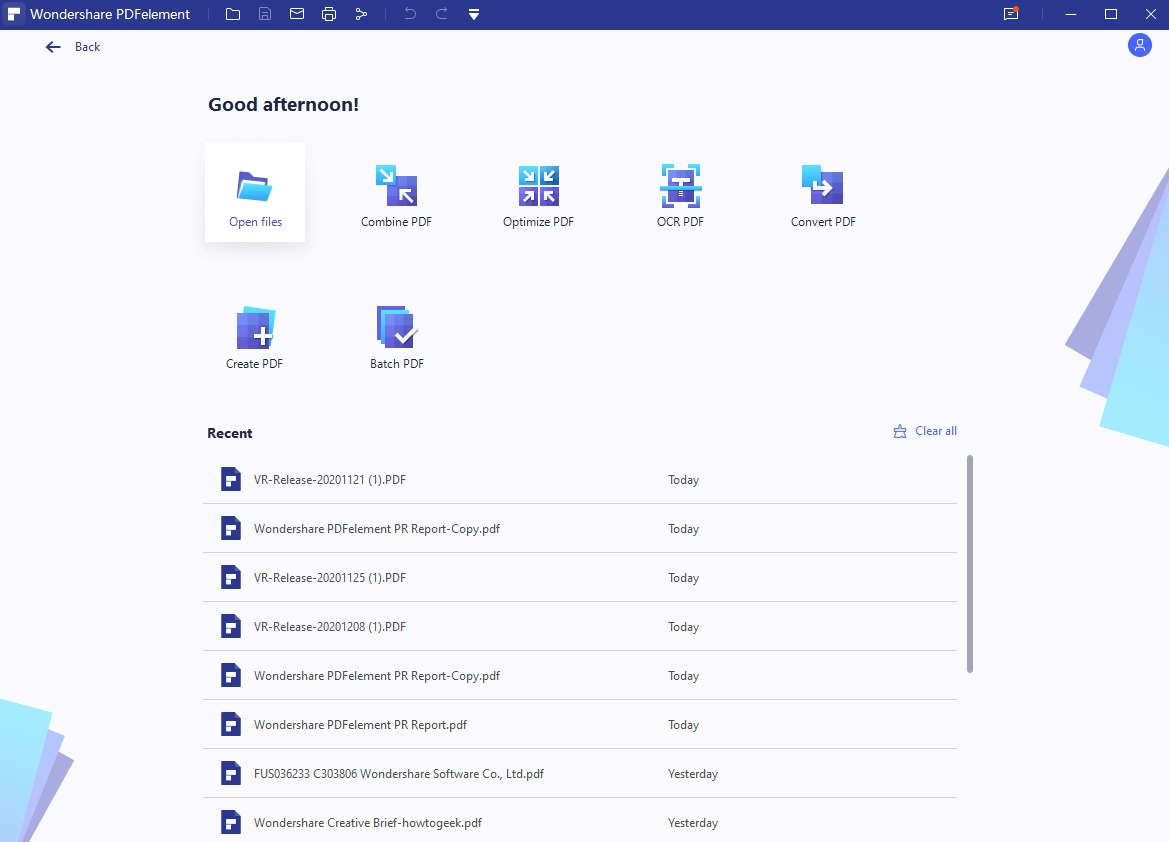 The icons used in this software are easily accessible and new icons clearly show the function they perform. Moreover, the new color scheme is chosen to look more striking and comfortable for the eyes. You can quickly navigate for editing and commenting options. You can select different options before beginning your work. Using PDFelement 8, you can combine two PDF files, open a PDF document on your computer, perform an OCR scanning, optimize an existing file, and convert PDF files to other formats. Besides, you can generate PDF files yourself from different formats like TXT, JPEG, and others.
Performance
When it comes to performance, this software offers 300% faster speed while starting up i.e. 1s in contrast to 3s, and can open a file 3 times faster i.e. 0.5s in contrast to 1.5s, as compared to PDFelement 7. This update has provided us with more optimized software as compared to previous versions. When it comes to performance, PDFelement 8 performs very well without any lag even with low spec computers.
The new version is optimized in memory usage from 120MB to 40MB that is great for many computers. Besides, the new update has reduced the waiting times for document or app opening. So, you will have to wait for less time to open your document.
The performance of this app varies from computer to computer and the file. If you are working with large and advanced files, you may come across a lag in performance but that is not a big issue. The software is trouble free with fast performance and is optimized for all PCs.
Multiple editing options
When you launch a PDF file, you can easily and quickly convert it into a variety of formats like PowerPoint, Image, Excel, Simple Text, Word, and more without sacrificing formatting and fonts. The software also offers a collection of commenting features that enables you to highlight text, write texts, and stamp the PDF document with a collection of available tamps. You can also add comments in a PDF file and add forms or images stored on your PC.
The electronic signature is a wonderful feature of PDFelement 8. This feature is incorporated into the tool as Document Cloud and not only enables you to sign the document from any connected device but also allows you to send the document to others to get their signature. For businesses, electronic signature together with the cloud aspect is a powerful tool.

Using PDFelement 8, you can add a watermark to the document or crop the file. It can also be used to reduce the PDF file size using the Optimize PDF feature. This quality is especially useful when you want to scan more pages in high quality. It can also make your PDF files more appropriate for the cloud, emails, and so on. With PDFelement 8, you can use the Online Signing service of Wondershare to sign-in a document. It is a great way found by the PDFelement provides to integrate its service portfolio with the PDF Editor.

With many other useful features, PDFelement also offers an OCR feature. This feature enables you to recognise the text in a PDF document and change it to an editable area. This advanced feature makes use of AI and greatly depends on the quality of the PDF file.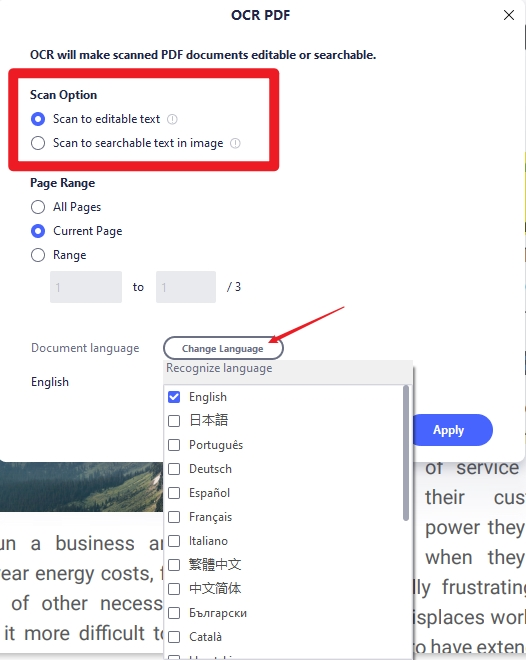 Cloud storage function
The cloud store function is the best feature introduced in PDFelement 8. The Wondershare Document Cloud is directly incorporated with desktop software. Wondershare Document Cloud includes both the electronic signature platform and the cloud storage service.
Batch Processing
Another notable feature of PDFelement 8 which makes it one of the best tools to manage PDF files is its ability to process PDF files. In terms of batch processing of PDF files, PDFelement 8 works much better. This feature enables you to perform bulk extraction of data, conversion of files, OCR as well as watermark features.

* New and intuitive user interface and interaction design
* Cloud storage support
* 300% fast speed
* PDF creation in bulk
* Improved data extraction
* Innovative OCR PDF files
Wondershare PDFelement 8 comes with a new slogan of PDFYourWay and actually inspires professionals and newcomers to find their way with this all-in-one software. This complete package with all the required features as well as innovative exclusive features is the best solution for experienced users as well as newbies. Overall, it can be said that the developers of PDFelement 8 have given lots of attention to improve the user experience. The attractive UI, high performance and speed, and other useful features focused on the needs of users. Wondershare PDFelement 8 is a great value for your money. Check here to get the discount of PDFelement 8.