In an somewhat unexpected news top file-hoster Rapidshare has entered into an partnership with Warner Bros. and is planning to launch a legal paid movie download website, in preparation of the upcoming paid downloading service the company has already started providing legal trailer downloads of movies to its premium subscribers.
Ironically, Rapidshare is still undergoing a strict copyright infringement battle in German courts which lead to speculations of service being taken down but got settled on terms of pro-active monitoring and control of illegal file uploads to their servers for the time-being.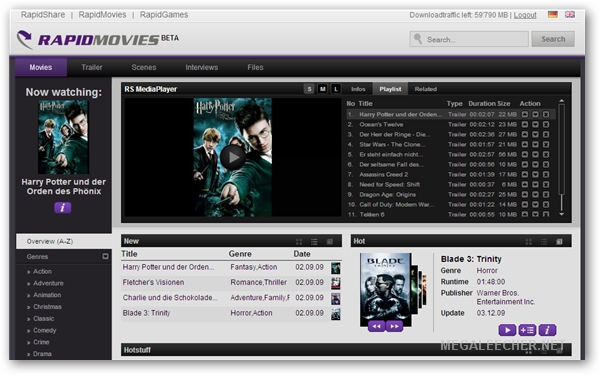 According to NewTeeVee, Rapidshare is ready with the payment system allowing sale of movie downloads and has got the billing relationship set-upped with a large number of users who are willing to pay and get better download speeds and upload privileges.
Rapidshare's legal movie download service RapidMovies is slowly getting into shape with new English and German trailers being added to test the platform, it will be interesting to see how Rapidshare deals with illegal uploads of same movies on their network which they are going to sell legally with their own financial interests on stake now.