Fix Partition
Submitted by admin on Thu, 11/01/2012 - 08:05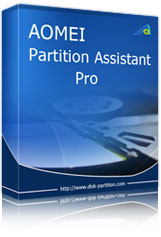 As an all-in-one disk management software, AOMEI Partition Assistant Pro Edition comes with more than 30 brilliant functions and has many special functions to tackle common troublesome disk issues such as - low disk space in system drive, the conversion between GPT and MBR, common disk partition tasks, smart partition alignment, one-lick OS migration to SSD, easily creation of bootable CD and many others.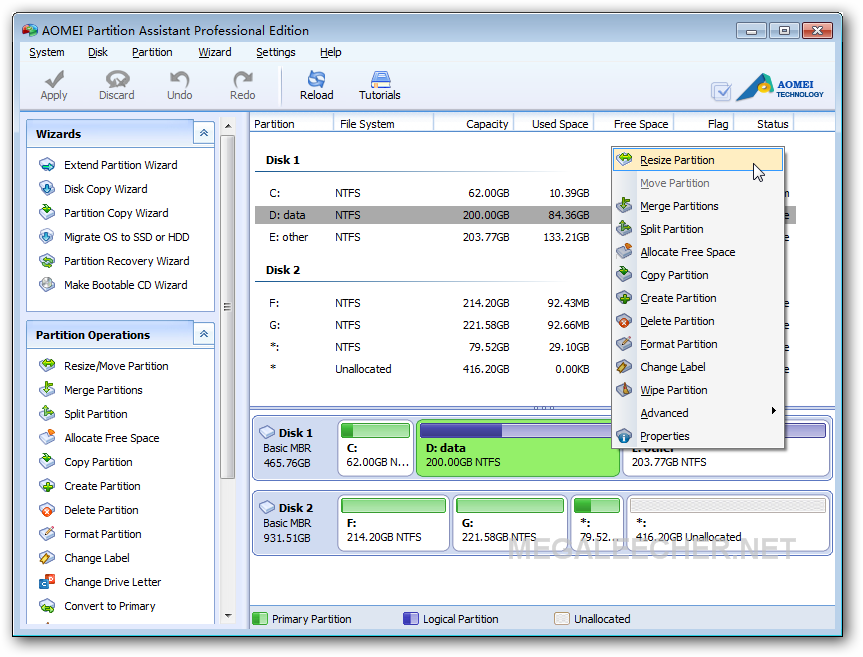 Here's an opportunity to grab this fully featured, all-in-one Windows partition manager utility worth $36 for free under an exclusive promo for our readers.
Submitted by admin on Tue, 10/09/2012 - 04:50
We have shared quite a few good Partition Managers for Windows like Paragon Hard Disk Manager, AOMEI Partition Assistant Pro and EASEUS Partition Master Professional, all of which were free under a promo for a limited period only. However, MiniTool Partition Wizard Home Edition is a much powerful and advanced utility for the job and is absolutely free.
MiniTool Partition Wizard Home Edition is a free partition manager software supporting Windows XP, Vista, Windows 7 and Windows 8 (32/64bit). Main features include - resizing partitions, Copying partitions, Create partition, Extend Partition, Split Partition, Delete partition, Format partition, Convert partition, Explore partition, Hide partition, Change drive letter, Set active partition, Partition Recovery.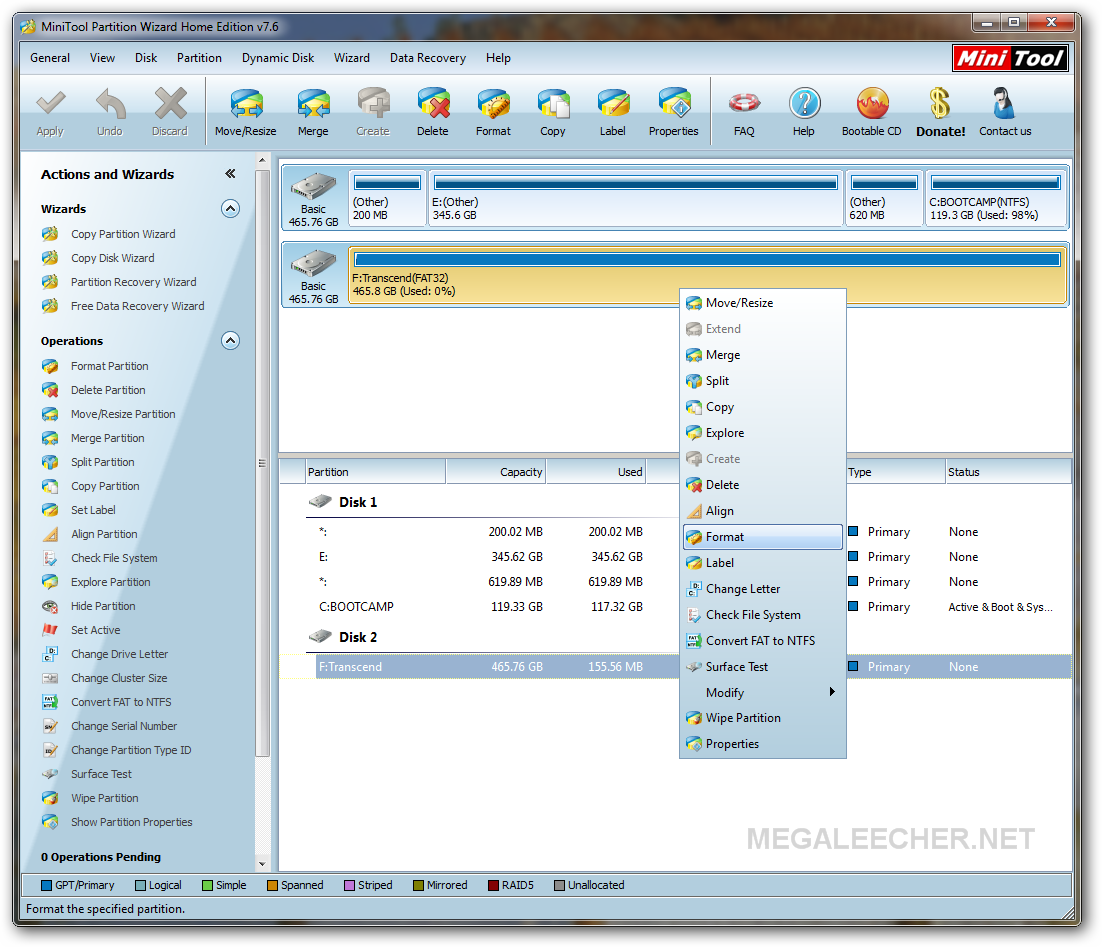 The software also features the ability to format partitions in popular Linux filesystem ext4 (3/2/1), this feature is missing in majority of the other Windows based partition managers.
Submitted by admin on Mon, 06/04/2012 - 09:00

Free licensed copies of AOMEI Partition Assistant Pro Edition 4.0 were given away last new year. To celebrate the release of their new upgraded version "AOMEI Partition Assistant 5.0", we have been provided with free licenses of "AOMEI Partition Assistant Pro Edition 5.0" to giveaway to our readers.
AOMEI Partition Assistant 5.0 comes with many new features like support for Solid State Hard Drive (SSD) with easy, wizard styled OS migration functionality from HDD to SSD, Partition Alignment for optimized performance and lifespan of the disk and Partition Recovery Wizard to recover lost or deleted partitions. The utility also offers critical features like ability to create WinPE based bootable CD's for disk management via direct boot, fixing of corrupt Windows Master Boot Record (MBR), conversion of GPT disk to MBR disk without data losing, management of Linux partitions and changing of partition type ID and serial number.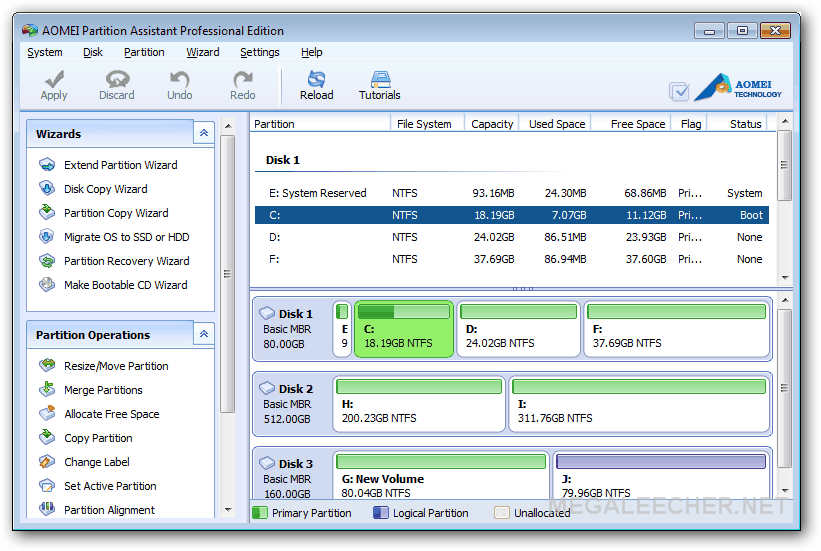 Submitted by admin on Sun, 02/14/2010 - 09:13

Partition Table Doctor(PTD) is an powerful hard-disk partition table recovery tool, the utility can be a lifesaver when the disaster struck and your HDD partition table gets corrupted making data inaccessible - in such situations PTD makes it possible for users to automatically scan and repair the partition-table, MBR and boot-sector of partition error enabling data recovery on FAT16/ FAT32/NTFS/EXT2/EXT3/SWAP partitions of any IDE/ATA/SATA/SCSI hard-disk drive.
Partition Table Doctor makes it possible for advanced computer users to work with almost every aspect of partition-tables as it comes equipped with features like backup and restoration of partition table, rebuilding of partition table and MBR, making partition active, hiding of partition, scandisk, setting password for hard-disk, unlocking hard-disk, editing sectors, copying sectors, fill sectors on partition, and so on, the utility also supports creation of bootable emergency floppy-disk or CD making recovery possible even when the operating-system fails to boot.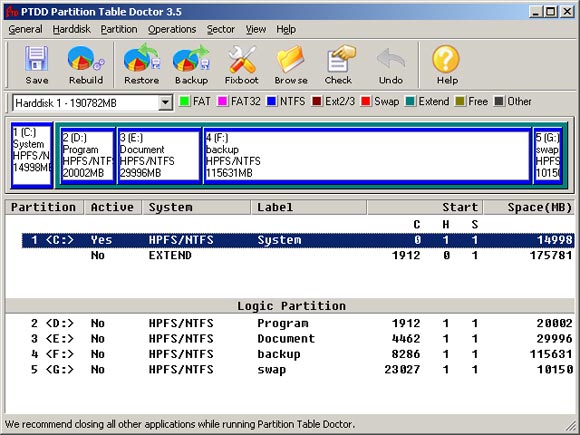 Partition Table Doctor is available under a shareware license for $49.95 but under an exclusive giveaway the utility is being offered free to everybody by the parent company EASEUS, the utility is a must-have in your computer repair toolkit so don't let this opportunity go and do grab a full-version licensed legal version of the utility for future needs.