In the digital age where everyone is exposed to boundless information, it is difficult to exercise efficient parental control. Internet is the ocean filled with unwanted and inappropriate content and parental control helps you to protect your child from drowning in it. One of the gifts of the internet, YouTube, is the most famous video streaming application and website in the world. With recent COVID-2019 home quarantine the time we kids spent online watching Youtube has increased drastically.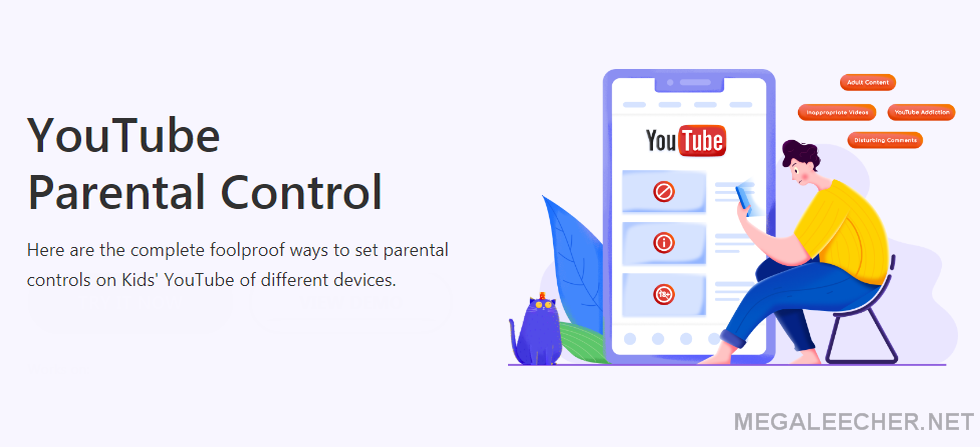 The knowledgeable videos uploaded on YouTube help our children with their studies whereas the inexpedient content threatens their innocence. Sometimes the problem is not only the content but also the time they spend on YouTube. The immense and intriguing content available on YouTube lures your child and soon they become addicted to it. There are all sorts of videos available on YouTube ranging from kindergarten rhymes to violent and depressing content. No parent would want to expose their child to the unsuitable and harming videos uploaded on YouTube. Thus, every parent needs to find the answer to - How to put parental control on YouTube?
Use of FamiSafe
I found the perfect answer to this question when someone introduced me to FamiSafe. But before using FamiSafe I tried numerous methods for exercising YouTube parental control. YouTube itself offers a feature for restricting the streaming of harmful content. I was really glad when I came to know about this feature.
No matter which device your child is using YouTube you can easily turn on the restriction mode. All you have to do is sign in to your YouTube account, go to 'Settings' and select restriction mode to activate it. In Android devices after opening the 'Settings', you require to click on 'General', and then you will be able to see the restriction mode option.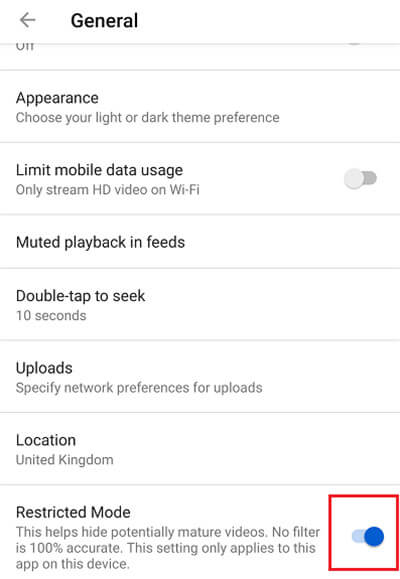 Since it is easily accessible and parents can turn it on within no time, children can also reach the options and deactivate the mode. Furthermore, this mode only restricted a limited amount of content and my child was still exposed to some hazardous content. Thus, I started to look for other reliable methods. I switched to YouTube kids for avoiding unwanted contents but my child was addicted to YouTube.
YouTube is also the home of bad videos that can harm the mental health of a child. A child of age ten can be scarred for life by seeing a violent video. Cyberbullying is another harmful effect caused by the abundance of internet. In earlier days parents have to protect their children from bad company and nowadays they need to protect them from bad content. If they are not protected the inappropriate content could influence them adversely.
Protecting the Children
It is crucial to introduce your child to certain concepts only when he has grown up into a mature being. An eight-year child should not learn the concept of depression and sex. The child will consume such unhealthy content and would interpret it according to his convenience which could be fatal for his development. In the age of learning rhymes its dangerous to learn about violence.
Children are the most innocent beings and they believe anything they witness. They would see a man jumping into a lake for fun and try to imitate him. Its very important to monitor the video streaming of your child and thus efficient YouTube parental control is indispensable.
FamiSafe is the application that answered my problem of how to put parental control on YouTube. FamiSafe application aided me to effectively monitor the online activities of my child and block the unwanted content. FamiSafe is a user-friendly application that is convenient for Parental control.
It will work as your eyes and ears while your child in streaming videos on YouTube. If the application sense anything harmful and unwanted it will immediately warn you and send an alert. FamiSafe detects the inappropriate keywords mentioned in the description, comments, and titles of the videos and helps you to protect your child from such content. You don't have to be dependent on the application to select the harmful keywords, rather you could add the unwanted words yourself.
Along with warning you the application also allows you to check your child's browsing history. If the children stream YouTube videos on the browser it will record that also. You will be able to see the full URL of the websites your child visited and thus you will be aware of his online activities. Furthermore, you could use the application to block undesirable websites and apps.
With FamiSafe, I was able to keep track of the channels my child has subscribed to and the videos he has liked. FamiSafe's Youtube control feature is the perfect method of protecting your child from the harmful content available on YouTube. The Youtube content detection records all types of harmful content accessed, liked, and commented by your child.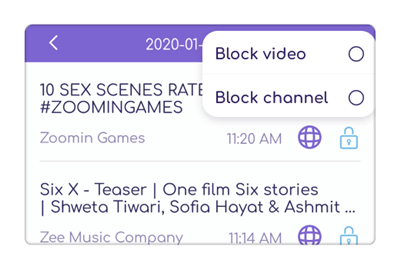 The FamiSafe application offers variegated features to help you. The abundance of content on YouTube might threaten your child's mental health but with the help of FamiSafe, you will protect your child from all the unwanted content and influence. The Explicit Content Detection in FamiSafe provides you with a detailed report of your Child's browsing history and warns you whenever he is watching something harmful. Along with this FamiSafe application helped me in many other ways. The location tracking feature helped me to look after my child remotely. And, the geofencing feature which warned me whenever he reached any undesirable location ensured his safety.
After the major concern of content, filtering comes the second issue, the screen time. FamiSafe efficiently helped me free my child from addiction to YouTube. By using the schedule restriction feature I was able to put a restrain on the immense time my child was wasting on YouTube. If you want to use YouTube for healthy and beneficial purposes it does not require to be used 3 to 4 hours a day. For 10 years old it's best to use applications such as YouTube maximum for an hour. Along with the mental health problems, the addiction to YouTube could harm your child's eyesight and FamiSafe will conveniently help you to change this unhealthy habit.
For enabling the efficient YouTube parental control, you have to download the FamiSafe application in both yours and your child's device. For android devices, you will find the application in Play Store and for IOS you can download it from the App store. All you have to do is register yourself in both the devices and sit back while FamiSafe is keeping your child safe. From receiving a warning to blocking unwanted contents, from location to history tracking you could rely on FamiSafe and with its help, you could conveniently protect your child from the harmful aspect of the internet.