BootZilla is a free, simple to use bootable cd for computer technicians and advanced computer users, to perform advance computing tasks like removal of viruses and hardware tests to pinpoint hardware failures without booting into windows.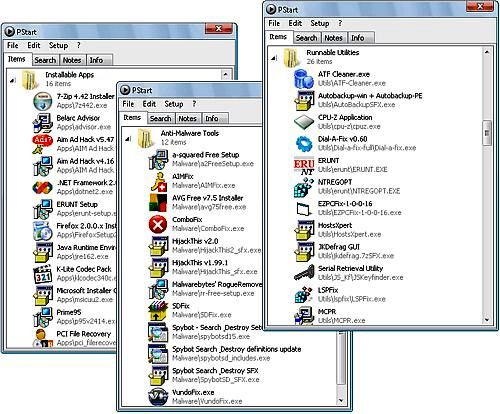 The toolkit provides common windows troubleshooting softwares into a easy to use package with bootable functionality and can come in handy while your computer is screwed up because of some malware, virus or hardware issue.
Softwares included in the pack:
Installable Apps

AIM Ad Hack v5.52 With this small file you can effectively remove all the ads from AIM v6.x

Belarc Advisor Free Utility that can catalog an entire system into a single HTML file. Can grab many serial numbers and keys.

CCleaner 2.03 Free Utility for cleaning up temporary files. Also has a decent Registry cleaner.

ERuNT/NTRegOpt Registry Backup and Restore for Windows NT/2000/2003/XP/Vista

Firefox 2.0.0.x Free, Alternative web browser

Java Runtime 1.6u3 Official Java Runtime Environment for Windows

KLCodec Pack v3.6.2 Free Codec pack for audio and video playback

Microsoft Installer Cleanup Utility Free Utility to repair broken MSI installations

Prime95 Free burn-in Utility designed to calculate the next mersenne prime number; offers a torture test for CPU and RAM testing.

PCI FileRecovery Free File Recovery utility

DVD Decrypter Free DVD Ripping tool. Burning functionality superceeded by ImgBurn.

ImgBurn Free CD/DVD/BluRay/HD-DVD burning software. Highly Recommended.

Unlocker Utility that can unlock files that are in-use, and rename/delete/move them.

Victoria for Windows Free hard drive testing utility. Can report SMART data, and remap failing sectors. Highly recommended.

Anti-Malware Tools

AIMFix Simple Instant-Messenger virus removal tool. Detects several different variants of viruses and rootkits. Highly Recommended.

Combofix Free utility that detects several different variants of malware, viruses, and rootkits. Highly recommeneded.

NOD32 AntiVirus 3.0 Trial 30-Day Trial of one of the best Antivirus products available for Windows. HIGHLY Recommended.

HijackThis 2.01 Free utility designed to allow reading of hidden startup programs, and Browser Helper Objects. A well-known tool, highly recommended.

RogueRemover Free SFX Free utility that can detect and remove rogue anti-spyware programs and traces in the registry. Highly Recommended.

RogueRemover Free Installer If the SFX fails to launch for you, use this to install RogueRemover onto your system.

Spybot Search & Destroy v1.5.1.18 Beta Free tool that can scan and remove thousands of spyware threats. Can also immunize a system against over 100-thousand threats.

Spybot Definitions Update Latest definitions for Spybot

Spybot Search & Destroy SFX Don't want to install Spybot? Run this fully updated SFX.

VundoFix Free utility designed with one thing in mind - erradicating Trojan.Vundo infections.

Runnable Utilities

ATF-Cleaner Utility designed to quickly remove temporary files from a system.

FAB's AutoBackup Free utility designed to quickly backup and restore a user profile and all data under a user profile. Highly Recomended.

CCleaner SFX Portable version of CCleaner application. Designed to remove temporary junk files. Also offers a decent registry cleaner.

CPU-Z Utility designed to detect the current CPU, and various aspects of the system. Can detect frequencies of cpu/memory. Highly Recommended.

Dial-a-Fix Utility that offers several repair functions for Windows-internals. Can detect and remove local policies, as well as several other tools. Highly Recommended.

Drive Dismounter Script, designed to quickly dismount an NTFS drive or volume from a Windows XP system. For Technician use only.

ERUNT Emergency Registry Backup Utility. Recommended.

EZPCFix Free utility designed to read and write remote registries off of hard drives. Can also be used to recover corrupted registry keys. Recommended.

FSOptimizer SFX Free disk defragment utility based on JKDefrag. Optimizes boot files to promote a faster boot time. Highly Recommended.

HostsXpert Free utility designed to manage the HOSTS file. Can also be used to restore a default HOSTS file or import known-good HOSTS files from the internet. Highly Recommended.

JKDefrag GUI Free disk defragment program, based on JkDefrag, with a GUI. Offers customizabilty of the defragmentation process. Highly Recommended.

KeyFinder Free program serial-number retriever.

LSPFix Free utility designed to allow access to the Layered Service Providers in the registry. Can detect improper settings and remove them.

McAfee Product Removal Tool Official McAfee Removal tool designed to remove all McAfee security products.

Norton Removal Tool Official Norton-branded product removal tool. Recommended.

PC-Decrapifier Free utility designed to detect and remove junk-ware pre-installed on Dell and other OEMs Systems. Highly Recommended. Technicians must purchase a license.

RegScanner Free utility designed to allow quick-searching through the registry. Can also create deletion registry files. A life-saver if you are manually removing symantec products.

Silent Runners SFX VBS script designed to find all applications that startup with Windows. Can detect hidden applications as well. Log file is placed in %Temp%/7z*.tmp folder.

System Information Viewer Utility designed to quickly and efficiently display all information about a system.

System Info for Windows Free utility that can display secrets such as passwords and network keys. Offers full system information gathering as well.

StartUpLite Free utility that detects and prompts the user about several un-needed startup programs. Can either disable, delete, or ignore the choices it auto-selects as un-needed. Highly recommended.

Sysinternals Tools Suite The entire Sysinternals Technician Tools Suite. Highly Recommended. Select utilities listed below:

AutoRuns - Free utility designed to allow viewing and deleting auto-running applications on system bootup, including services and drivers.

Process Explorer - Free taskmanager-like application. Can replace taskmanager, and displays much more information than taskmanager.

RootkitRevealer - Free utility designed to detect and show rootkits found on a system.

TCPView - Free utility to monitor TCP/IP connections incoming and outgoing from the local machine.

SysVolInfoUnlock Script designed to take ownership of the System Volume Information (System Restore) folder on a user-input drive letter. Only works on XP Pro.

Undead Pixel Utility designed to test LCD monitors and repair stuck pixels.

UnknownDevices Utility designed to detect and report hardware that is missing drivers. Provides an easier way to search the internet for a proper driver.

Unstoppable Copier Free utility designed to copy files from failing media (hard drives, network drives, and optical media only)

ViewpointKiller Free utility designed to detect and remove Viewpoint from a system.

WinsockFix Utility designed to perform one function - restore the Windows TCP/IP stack to its default settings.

ZonedOut Utility designed to detect and manage internet zones settings.