If your are not an audiophile and don't care much about audio/video quality, cheap chinese MP3/MP4 players are just for you, these devices are quite popular and just get the job done, since there is no quality control over these devices they do not last long, one of the most common problems faced with these portable players is the issue of firmware software corruption, I encountered a similar problem with my friends PMP which refused to start getting stuck at loading screen, the only solution was to flash the firmware but the problem was unavailability of any information and tools to get the job done, after long research and flashing the firmware I was able to successfully recover the MP4 player to working condition.
Here is an step-by-step tutorial on how to identify your MP4 player, download its firmware and flash it using appropriate tools :

This procedure can render your device dead, so do not try if your player is working fine.
The most important step of the whole process is to correctly identify your device CONTROL CHIP and CPU, using wrong firmware or flashing tool may cause damage to your device, unscrew and open your device and write down all chip id's and motherboard numbers you see, you can also try the EasyChips - firmware identification utility but it did not worked for me.

You will now need to download the correct firmware and flashing utility for your device, visit sites below and search for your control chip and cpu to download the firmware and flashing utility, you can also post on user-forums to get help identifying the firmware :
In my case the chipset was Sunplus AJ262-V7 and the utility needed to flash it was FRM Pro.
Once identified you need to connect your device to computer via USB in camera mode (Press A + OK button and plugin USB cord on player), for Windows to identify this mode you will need camera drivers you need to point Windows Found New Hardware Wizard to folder downloaded with the FRM Pro utility above, this will install the first camera driver, for correct identification by flashing utility you need to install a second camera driver - open Windows Hardware Manager and install unidentified camera device drivers by pointing the driver wizard to folder used earlier.
Now install and launch FSM Pro flashing utility and follow these instructions to install the new firmware.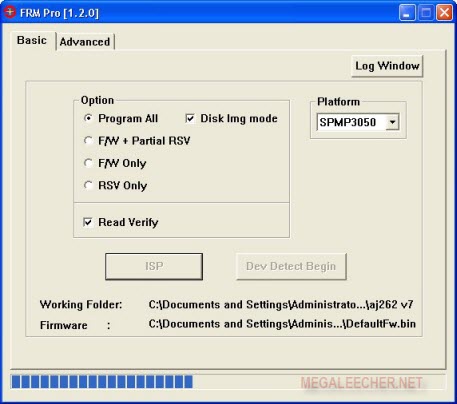 Let the process finish, this will take a while, do not disconnect or interrupt the process until you see a success message in log window.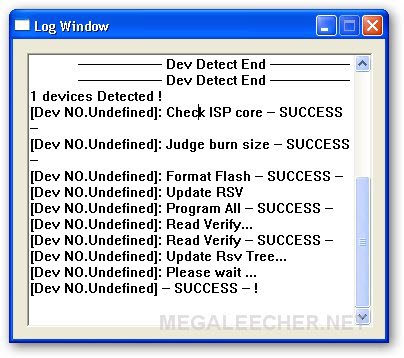 Unplug your PMP from computer and it should be working now.