Samsung seems to be hedging its bets with Google and Android by joining with Microsoft to design the next generation tablet computer running Windows 8. Samsung has long used Microsoft's operating system, but this the first time the two companies have worked together on hardware building a device from the ground up. Several sources have reported that a prototype version of Samsung's new tablet will be shown at the upcoming Microsoft BUILD conference in to be held next week in California. A few sites have even speculated that there will be a giveaway of the tablets at the keynote event to encourage developers to write for Windows 8.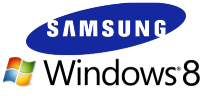 Not much is known about the latest version of Microsoft Windows other than rumors that it may be able to run Windows Phone applications as well as Windows 7 applications. Samsung is a major smart phone, PC and tablet maker and would benefit with a closer relationship with Microsoft to lessen dependence on the Android operation system. In light of Google's recent purchase of Motorola Mobility and subsequent statements that Google may start treating its new handset acquisition as first among equals in deployment of Android updates, it is wise to have other options.
There has been rampant speculation as to the hardware specs of the new tablet, but it is not likely that anything will be revealed until the keynote address and both Microsoft and Samsung are keeping quiet on the matter.
As soon as we have real specs and not speculation, we will be posting the information right here.