We are in the era where YouTube is the best source of entertainment for all ages. From watching educational video channels to amusing songs playlists online, we get everything in the form of fascinating videos. The videos are often sorted in an orderly manner in the form of playlists and channels to deliver the convenience of watching all the videos at one place.
YouTube is undeniably the best video service in the world that has countless users who view, upload, rate, comment, share, and subscribe to video channels. But it is ironic that YouTube doesn't offer aa standard way of downloading videos in bulk. And how monotonous it is to do one by one?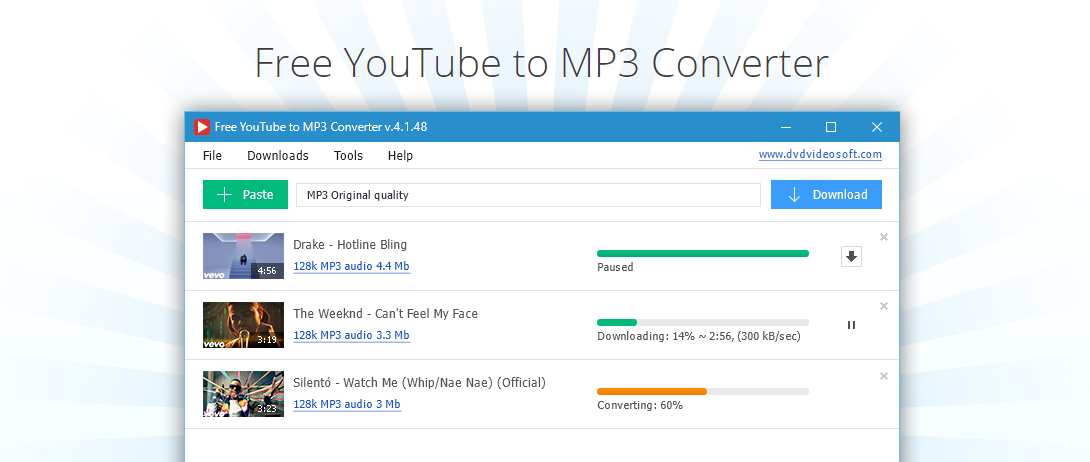 A few years ago, downloading YouTube videos seemed to be a mystery for people like me. But time passed, the task got easier. Using Free YouTube to MP3 Converter app developed by DVDVideoSoft for downloading videos is as easy as copying the URL, pasting it and clicking the download button. You actually have to do only this and your video will be downloaded in no time. The app saves a lot of time, in fact, all the time!
It does a whole lot more than merely downloading some videos. You can download entire playlist and channels with a click. The videos can be saved in any format of your choice. All you have to do is to paste YouTube URL to the main window of the app and allow the app to do rest of the task. The app offers multithreaded downloading with extremely fast conversion. Moreover, it supports all types of links.
It hardly takes 10 seconds for a video to download and some minutes to download a complete playlist or channel. No doubt, it is a more convenient than copying and pasting innumerable video URLs one by one and then, waiting for their download. It is a one-time task, which will save your time, data and moreover, manpower.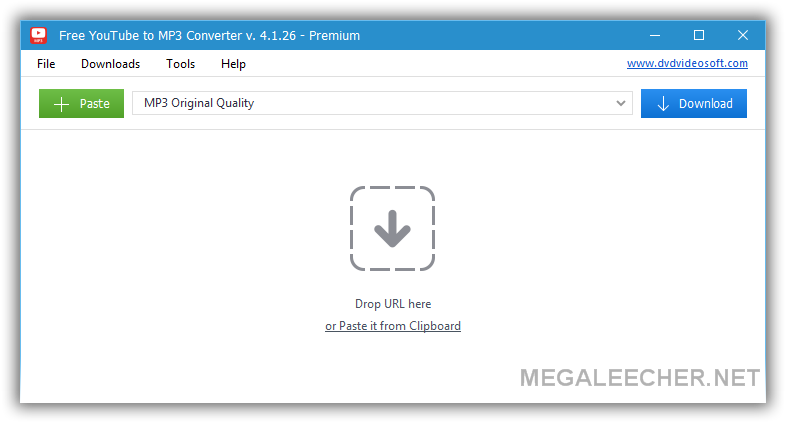 The application is a much sorted and hence, the Best Way to Download YouTube Playlist and Channels for your gadgets.
Download and Install Free YouTube to MP3 Converter App

The Free YouTube to MP3 Converter app, developed by DVDVideoSoft, can be downloaded and installed in your PC and Mac. This simple application is the first step to downloading a playlist or channel.

Run the Application
After you run the application, you will see a 'Paste' button, clicking on which will automatically paste the URL, options for selecting the quality and format of the video, playlist or channel and a 'Download' button, clicking on which will begin downloading.
Select a Playlist or Channel
Before we move any further, you must find and select the playlist or channel you want to download. If you wish to download some other playlist or channel, go to 'Playlists' and choose the interesting one.
Copy YouTube URL
The URL in the address bar of the browser contains all the appropriate parameters of the YouTube playlist. The next step is to copy YouTube URL. There are some methods that can be used for copying. Those are:
a.) Copy it directly from the address bar of the browser, or
b). Right click on the title of the playlist and select 'Copy link address', or
c). Right click on the video itself and select 'Copy video URL'.
Use any of the ways and get it done.
Download YouTube Playlist and Channels
After copying the link, you must go to the Free YouTube to MP3 Converter app and click on the 'Paste' button that will automatically paste the copied URL of the playlist or the channel in the download list. You may even repeat the operation if you want to download more playlists and channels.
The video will be downloaded in the original YouTube format and saved by the same name as the playlist or channel. Some playlists and channels might take time because of a large number of files in it. With DVDVideoSoft Free YouTube to MP3 Converter app, a user can download thousands of videos without any bother.
Filter your Playlist Search
YouTube search bar at the top of any YouTube page has the 'Filters' drop down menu where you can choose your filters to refine your search like duration, features, upload date and more.
Download new videos only
You can even choose to skip downloading those videos in the playlist or channel that have already been downloaded by you. To do it, you are to click on Tools', select 'Options' and then go to 'Output' where you need to select 'Skip downloading if the file already exists'. You may also go through other options if find them suitable.
Download only particular videos
It is obvious that out of all the videos in your playlist or channel, you might not want to download some. Free YouTube video downloader gives you the option of selecting only the particular videos and downloading them.

There is a blue inscription of playlists and channels where the size and total amount of the detected clips can be seen. After clicking on it, you will see the list of the videos contained in your playlist or channel. Select only the ones you want to download and unselect others.
Using Free YouTube to MP3 Converter application developed by DVDVideoSoft is an appropriate and practical way of downloading YouTube Playlists and Channels rather than using the traditional methods of copying one URL at a time and then pasting it and then downloading. Downloading several playlists and channels would have taken years if we had been stuck to the traditional methods.
From downloading a single video to a channel, you can do the entire task in a couple of minutes. The entire playlist or channel automatically save to your disk without any kind of hassle. Free YouTube to MP3 Converter is easy to get and, moreover, it is very easy to use. You can use it for PC and Mac and enjoy amusing experience of downloading a large number of playlists and channels of your choice with a single click.