Security is a great asset for everybody, be it an individual or an organization. We are already aware that the world is digitizing at a rapid pace. In this digital world, EaseUS provides us with data management tools for data back-up, data recovery, and solutions. It is designed for everybody who wants to keep data in a good environment. It is designed for home users, professionals, enterprises, organizations, IT admins, technicians consultants, service operators etc. It offers a series of utilities and programs that help in organizing the data very well and makes the digital life 100 % safe.

1. Recovers deleted files
2. Data Back-UP
3. Data Security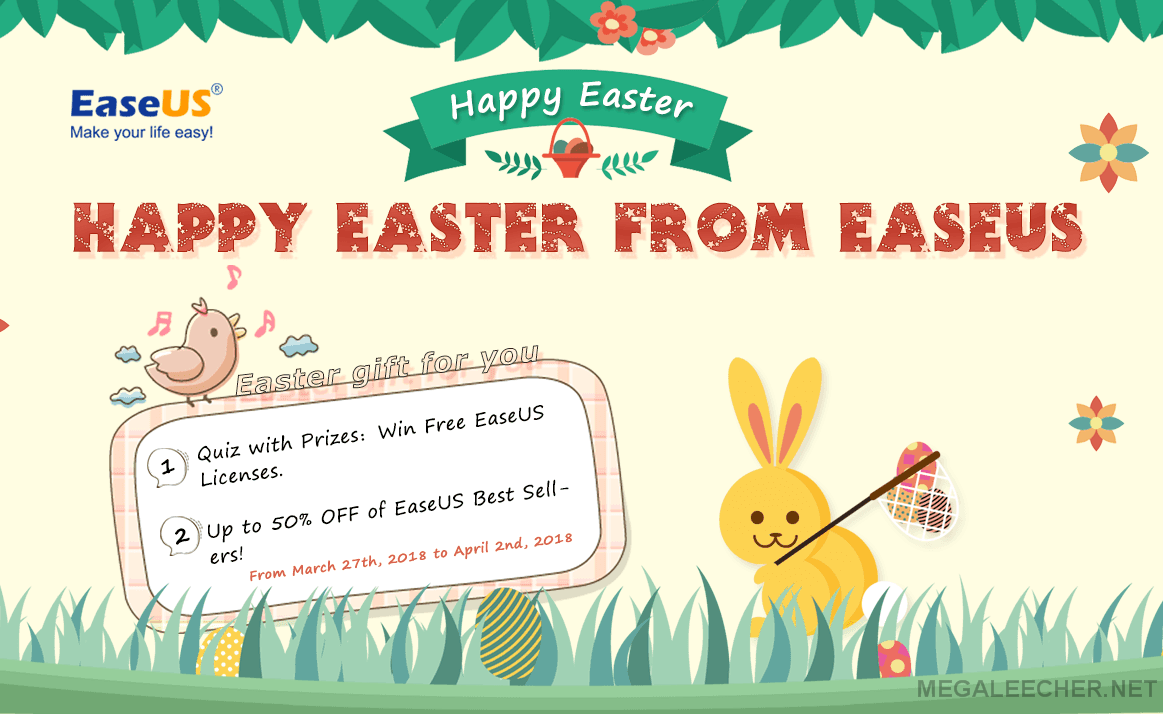 Oh! Did you just have that little line of wrinkle on your face? That why is something not written about the giveaway? Don't worry! Here comes the good news for all.
EaseUS, literally making your life easy, has planned a giveaway on the occasion of Easter. "HAPPY EASTER FROM EASUS!" Now you have a lucky chance to win exciting prizes from EaseUS. You just have to participate in the contest organized by EaseUS.
HURRY!!! Participate in the quiz contest.

Go hit the start button right now. Pick your answer within 30 seconds. Start the game and the surprise is on your way!
The contest lasts for a week from
If you are lucky enough, you may win exciting prizes like free EaseUS Licenses and up to 50 % off of EaseUS Bestsellers. I was lucky to get a 100% free activation key of EaseUs TODO Backup Home :), make sure you activate the complimentary serial number before the deadline of April, 3rd 2018.
The EaseUS Data Recovery Wizard Professional 12.9 is now available for $44.97. It is all in one data recovery software for Windows. The EaseUS Todo Backup Home 10.6 is now available for $14.5. It is one of the most simple and affordable file backup software for Windows 10/ 8.1/ 8.7/ Vista.
Here are some of the exciting latest features of EaseUS that you might want to know:
1. It is safe and easy file recovery software that can recover your lost or deleted files from your PC, laptop, and server or from any other storage media you use.
2. You can keep a track of the files that have been recovered while using the software.
3. It is available in different languages that include Brazilian, Arabic, Chinese (Simplified), Danish, English, French, Dutch, Japanese, Korean, Norwegian, Polish, Portuguese, Russian, Spanish, Turkish, etc.
4. It also lets you recover Canon camera video files (in .mov format) quite easily and effectively.
5. You can even filter out the discovered images on the basis of their content by adding image recognizer.
6. After you are done with the scanning, you can easily search folder by name.
7. It offers you both quick scan and deep scan to check the lost, formatted, or deleted data files, documents, other media etc.
The EaseUS Data Recovery Wizard is the best file recovery software if you want to recover all the lost data from your storage devices.
Hurry!! Enter the contest and grab your chance to win these exciting prizes by EaseUS.
For more details, you can visit the official website of EaseUS here - https://www.easeus.com/campaign/easter-campaign-2018.html