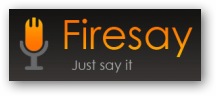 Addon's have been a major plus for Firefox web-browser enhancing the overall web-surfing experience, and brand new addon Firesay is going to make it even more interesting. Just imagine surfing the web hands-free without touching your keyboard showing off your geek smartness to your friends just via voice-commands - now possible using uber-cool and geeky Firesay addon.
Currently under beta Firesay allows you to control Firefox using voice-commands and supports navigation features like opening new tabs, launching websites, closing tabs and searching Google for specified terms - checkout the video below to see Firesay in action.
The current version only supports Microsoft Windows 7 as it comes with an in-built speech-recognition engine which is used by Firesay to interpret user commands, the great part is that since it uses your Windows 7 speech-recognition profile you won't need to train it again (if you have done so already for Windows 7), all-in-all a must try addon if the idea impresses you.
Firesay can be downloaded from the Mozilla addon site and more details can be obtained from official website.