If you find audio-editing softwares like Audacity overkill for you basic MP3 editing needs and want something pretty basic and fast, here are two simple to use MP3 editors for accomplishing basic cut, copy and paste tasks on MP3 audio files.
mp3DirectCut is a lightweight utility to edit MP3 files directly without decompression, you can perform basic tasks like cut, copy, paste and change of volume without the need to decode or re-encode the audio saving time.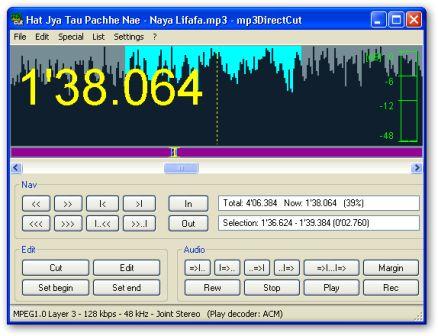 Non-destructive cut, copy, paste.
Fast visualization and easy navigation.
Volume change, fade, normalize, pause detection.
Supports for Layer 2 dvd/dvb audio.
Cue Sheet support.
VU meter and bitrate visualization.
High speed recorder with Command line support.
If you are looking for something even simpler and basic then mp3DirectCut, MP3 Cutter Plus would be the answer, pretty similar to the free ringtone maker shared earlier the handy little utility lets you cut MP3 music files easily using basic slider controls.