Malware's are getting smarter by the day making use of advanced techniques like Dll injection to hide their tracks and making removal harder, I had shared tips on how to detect and remove unknown malwares using utilities like ARSwp and SREng, SpyDLLRemover is yet another handy utility which can be included in your anti-malware toolkit to diagnose and get rid of these malicious dll's files injected into legitimate software processes.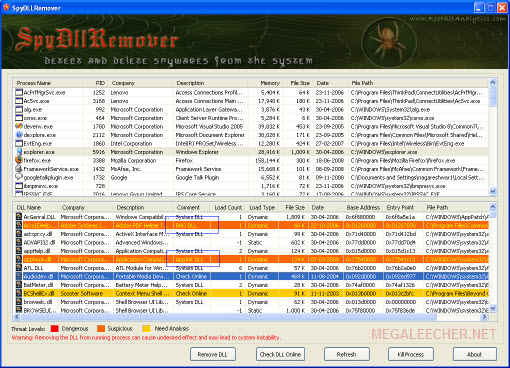 SpyDLLRemover makes use of multiple advanced techniques such as direct syscall implementation, CSRSS process handle detection, PIDB method etc. to find out user-land rootkit processes efficiently.
SpyDLLRemover Features :
* Detect hidden userland rootkit processes using multiple techniques such as
- Direct NT System Call Implementation
- Process ID Bruteforce Method (PIDB) as first used by BlackLight
- CSRSS Process Handle Enumeration Method
* Detect the hidden DLL/module within process by using loaded list traversal technique.
* It uses the direct system calls to perform process related operations which defeats any attempt to hide by userland rootkits.
* Separate out the modules/DLLs based on the various threat levels such as hidden dll, BHO plugin dll, and system dll, AppInit DLL etc that makes it effective to detect malicious modules.
* DLLs are marked with different color based on threat level, which makes it easy and quick to eliminate the spyware DLLs.
* It presents state of art technique for Removing the DLL from Remote Process based on DLL Injection method to completely unload the DLL in just one click.
* Terminate any suspicious or hidden process directly using NT system calls.
* It has integrated online verification mechanism through ProcessLibrary.com to validate any suspcious DLLs.
This makes it easy to differentiate between the spyware & legitimate DLLs.
* Displays detailed information about all running processes on the system
- Process name
- Process Id
- Company Name
- Process Description
- Memory Utilization
- Process Binary Path
- Process File Size
- File Install Date
* Shows detailed information about each loaded DLLs within process to make it easier for manual analysis.
- DLL Name
- Company Name
- Description
- Comment about type of DLL (System, Hidden, Suspicious)
- Load/reference count of DLL
- Loading Type (static/dynamic)
- DLL File Size
- File Install Date
- Base Address of DLL
- Entry point of DLL
- Full DLL File Path
* It is standalone tool which can be executed directly as it does not require any installation.
SpyDLLRemover is portable requiring no installation and supports 32Bit versions of Windows 2000, XP, 2003, Vista and Windows 7, the utility can be downloaded for free from author page here.