Rapidshare is trying hard to keep it's throne of being the leading one-click file-hoster, plagued by anti-piracy outfits pressure users are getting away to rival services like Hotfile.com as evident from this Alexa traffic comparison chart of past six-months. The company has now came up with a brand new site design, social-network and anti-wait strategy to win back users to Rapidshare.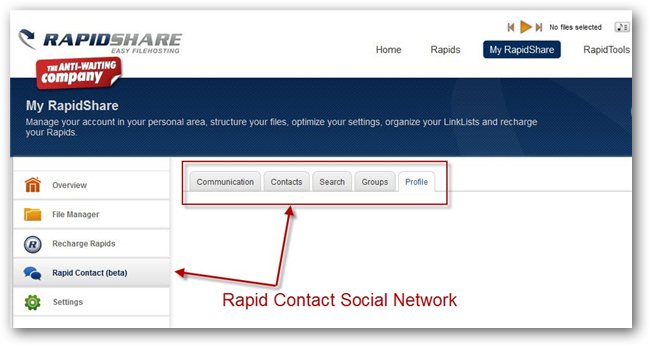 New claim, new website, new features

RapidShare has completely redesigned its website and is taking off with numerous new features. After we kept the website simple and functional for years, from now on, our users will be met by a youthful and modern design. This is reflected on one hand by a visually attractive user interface. On the other, we have designed the website pages and content to be much better arranged and user friendly, and in addition, we have integrated a few new functions.

The most striking innovation has to be the introduction of RapidShare as an Anti-Waiting Company. What is behind this? Quite simply, it is the thought that waiting sucks, whether it lasts for a minute or half an hour. RapidShare wants to do something about this and has imagined something special for all its users: in the Anti-Waiting Lounge, users from now on can sweeten their waiting time and test themselves on various online games. We brought the old classic Cosmic Defender back to life for the launch of the Lounge. This will soon be followed by other cult games.

As an additional feature of the website, we are currently testing an application called RapidContact, thanks to which our users all around the world can come into contact with each other, get to know each other and communicate with each other. More information about this will be available in the coming weeks. We want to test the functionalities with selected users in a beta version first and work on the further development of the application with them.

An adjustment has also been made to our price structure. Following the introduction of RapidPro in July, we took three months to observe and evaluate the response of our users. The result: the prepaid model with the purchase of Rapids was overwhelmingly well received. However, many customers have expressed the wish that, when they purchase RapidPro, they should have a larger amount of disc space and traffic available to them than is the case at the moment. We are now making this wish come true: From this point on, every RapidPro user will receive five times the amount of disc space and traffic, i.e. 50 GB of storage and 150 GB of traffic every 30 days.
The costs are of course changing accordingly: 30 days of RapidPro now cost 495 Rapids. The smallest Rapid Package has 500 Rapids and costs 5.99 Euros. In addition, packages with 1,000, 2,000, 6,000 and 20,000 Rapids are available. Whoever activates RapidPro directly for 12 months receives the 12 months at the special price of 5,499 Rapids and is given VIP status. VIP customers will be favoured in future beta tests and receive invitation codes for RapidContact. As before, users can purchase additional traffic quotas on top of this, in 100 GB slices. 100 GB are charged per 280 Rapids.

We hope all our users will enjoy exploring the new RapidShare website.

Your Anti-Waiting-Company
I tried to get into "Rapid Contact Beta" by extending my account for 12 months as instructed but it failed, seems there are still some teething problems. Only time can tell whether this strategy works in favor of Rapidshare or not.