Anti-virus software need constant updating to protect users against new threats and this provides anti-virus software company's an edge for fighting piracy as they can check and block blacklisted keys whenever a pirated copy of software connects to internet for updating, leading security software vendor Kaspersky also blacklists pirated keys every few days making pirates go hunting for new non-blacklisted keys now and then, however, earlier pirates found a innovative trick to get past this limitation via a beta registry hack which allowed users to get genuine activation keys right from Kaspersky servers without any limitation bypassing the blacklisting completely letting them update Kaspersky Anti-Virus 2009 and Kaspersky Internet Security 2009 without buying, I was pretty sure that this hacktivation trick will get blocked in upcoming versions of Kaspersky products but to my surprise it still works in Kaspersky 2010 products.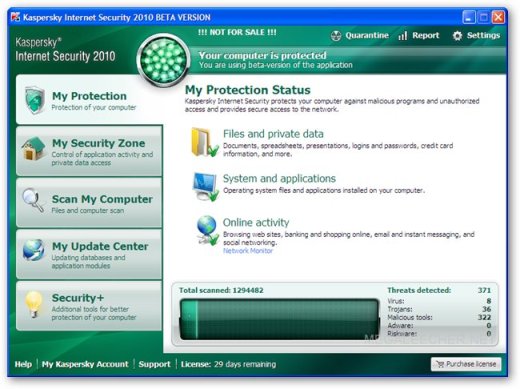 Once again this is posted here for educational purpose only, the trick is same as earlier but a different registry entry - keep in mind, using this trick might be illegal, use at your own risk. Update : How to removed, Pls. read below.
The how-to was posted as a proof-of-concept and was not intended for illegal use of any software, it was expected that after going public with this trick Kaspersky will take preventive actions but that has not happened and the software is still vulnerable - we are removing the how-to after receiving complaints regarding the nature of the post.