It has been over 8 months since WonderFox last giveaway campaign on megaleecher.net. Now, Megaleecher and WonderFox together organize a BRAND NEW giveaway for WonderFox Document Manager from today to May 10, 2014. This program is designed for managing/ encrypting /backing up document files. All of megaleecher.net users can enjoy the unlimited license of WonderFox Document Manager for FREE.
WonderFox Document Manager is a document management program which can manage your daily office documents conveniently. You can list, manage and backup documents with a few clicks instead of searching and backing up them one by one. You can protect your office document content by using the "Lock", "Hide" and "Encrypt" features. The "Encrypt" feature can even help you to prevent accidental deletion.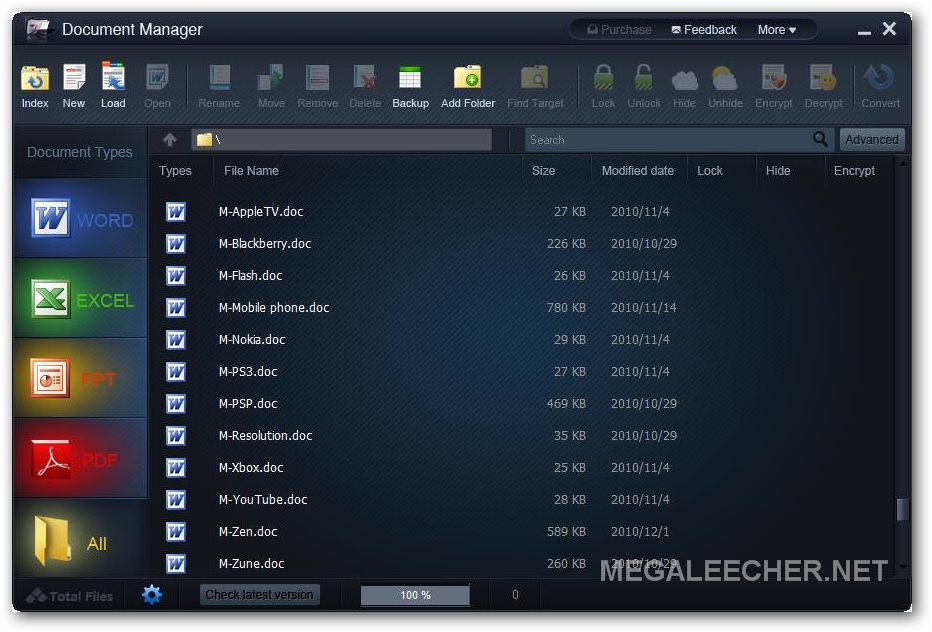 What's more, WonderFox Document Manager as an overall solution for Windows documents. It supports the popular document formats, such as Word(*.doc/*.docx), Excel(*.xls/*.xlsx), PPT(*.ppt) , PDF(*.pdf), etc. If you are working in an office, I am sure you have to handle many documents on every business day. And sometimes, it would be boring to manage the daily documents, especially when you need to find some files which are not generally used. This program has a simple and straightforward interface which makes it easy to handle, even computer novices can use it without any problems.

Software: WonderFox Document Manager
Version: 1.2
Size: 4.8 MB
Price: FREE (list price: $49.95)

Minimum: CPU 800Hmz, 256MB RAM, Disk Space 20 MB
Recommend: CPU 1G or higher, 512MB RAM or more, Hard Disk 10 GB or more
The Giveaway Version works the same as Full Version
No free updates.
No free technical support
Valid before May 10, 2014
Download it at: http://www.videoconverterfactory.com/document-manager/
Install it to your computer.
Copy license code "C40BFAFEE81B4367FD07", then register it.
If you have any problems about registration please send email to support@videoconverterfactory.com