Android Market
Submitted by admin on Tue, 03/27/2012 - 05:18
By now you must have noticed the "New" badge next to your Google Navigation Bar displaying Google Play, and if you are thinking this as of any new service you are wrong. "Google Play" is nothing else but basically a re-brand/relaunch of existing "Google Android Market" which a cloud approach, allowing users to access all there favorite music, books, movies, apps, and games at one place from the Web and any android device.
Submitted by admin on Wed, 03/23/2011 - 09:58
Amazon Android App Store
is now live and comes with two new great features making it a notch above the official Android Market - the first one being the free 'Test Drive' option which let users launch and try applications directly from their web-browser via an emulated instance of Android hosted on Amazon EC2 cloud, and second being the "free app-of-the-day" feature giving away a new paid application for free daily to users.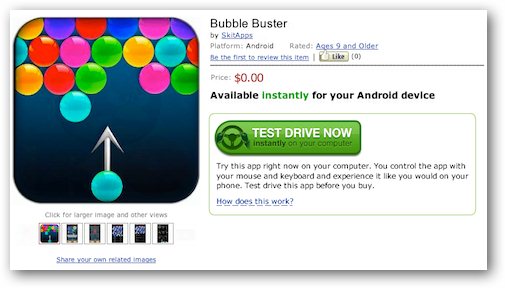 Submitted by admin on Sat, 02/05/2011 - 09:32
Torrent downloading from mobile phones has always been a functionality users are looking for, we have shared TorrentDroid which gets the job done for Android users. µTorrent Remote - the official offering from none other than BitTorrent Inc. the maintainer of BitTorrent protocol and creator of multi-platform µTorrent client is also out now promising complete, hassle free, remote control of your torrent client from anywhere.
µTorrent Remote and µTorrent Web allows users to add, remove, track, stream and control their torrent downloads from anywhere using their mobile phone or any web-browser connected to internet.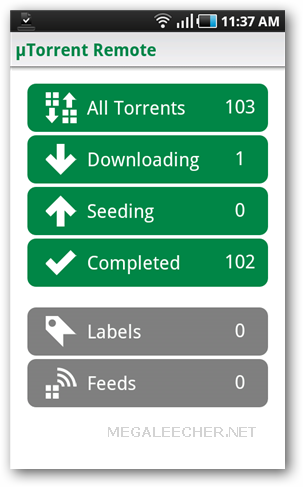 Submitted by admin on Thu, 02/03/2011 - 08:23

Much needed web-version of Android Market is finally unveiled by Google, offering integration with Google Account the webstore enables users to browse, install and manage apps, games and widgets from a bigger, brighter interface.
The best part is that once signed-in users can instantly install apps directly to their devices without any wires (requires the android device to be online), a list of already purchased and downloaded apps is also available via "My Market Account" option.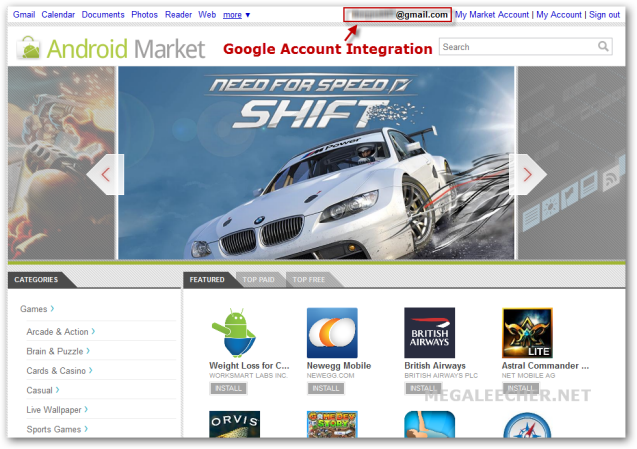 Submitted by admin on Thu, 01/27/2011 - 13:18
After RealPlayer and MPlayer yet another popular multimedia player "Winamp" has landed onto Google Android platform.
With impressive features like Wireless Desktop Sync, SHOUTcast Radio, complete Android media management with sync to desktop library, Persistent Player Controls, Play Queue Management, Widget Players & Shortcuts etc., Winamp For Android is certainly going to find it's place as the default multimedia player of choice for many.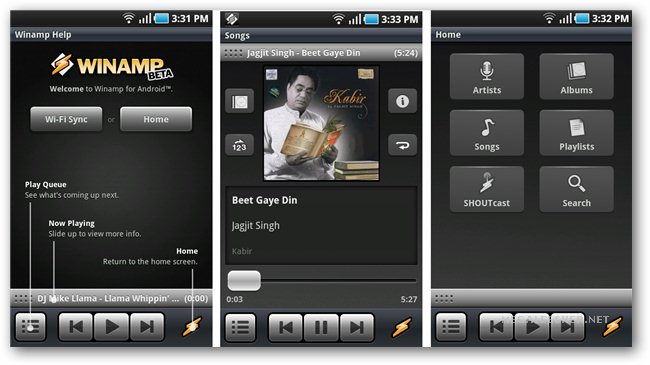 Submitted by admin on Thu, 01/20/2011 - 06:07
"Real Player" the popular multimedia player from RealNetworks is now available on Google Android OS as a BETA release, in it's current build the multimedia-player makes it easier for users to play and organize music, photos and videos. No streaming options are seen as of now but considering the fact that RealNetworks is mostly known for there audio/video streaming services the feature must get unveiled in future builds.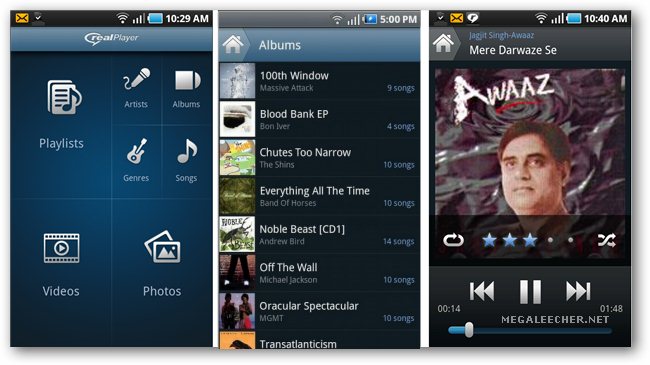 Featuring an intuitive user interface managing your multimedia collection on the device gets simpler, high-resolution application images with direct download link available after the jump.
Submitted by admin on Mon, 12/27/2010 - 09:19
ADW Launcher EX is a brand new launcher for Android users, based on the open-source project ADW.Launcher this new launcher offers lot of new additions and improvements. Packed with numerous new desktop tweaks, customizations, transitions and UI effects this is a must try for Android lovers.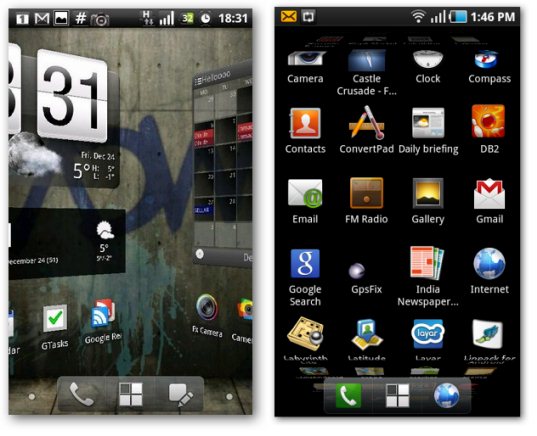 New feature details, video demonstration, high-resolution images and download link available at the end of the post.
Submitted by admin on Sat, 12/18/2010 - 14:41

While the BETA APK of Need For Speed : Shift for Android was available on various forums for a free download since quite some time, the final version is now officially available in Android Market for $5.
NEED FOR SPEED SHIFT for Android comes with 20 cars including the BMW M3 GT2, Lamborghini Gallardo, and Pagani Zonda for your pleasure. Featuring 18 tracks in 3 locations with Quick Race and Career Modes the physics-based accelerated 3D graphics is surely going to provide a superior racing experience.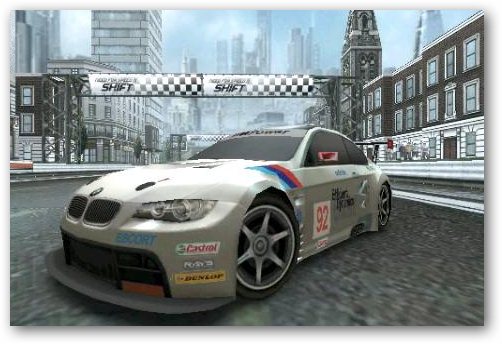 Submitted by admin on Sun, 12/12/2010 - 05:45

Google has scheduled to roll-out the official Android Market Update v 2.2.6 over the span of next two weeks to all devices running Android 1.6 or higher. However, users can enjoy the update right now as developers have ripped and posted the new Android market APK install file for everybody to download and install.
The new update brings a sleeker UI introducing features aiming to improve merchandising of applications and streamlining the whole browse-to-purchase experience. Full-quality images and description of new android market features is available after the jump with direct download links to the com.android.vending_2.2.6.apk install package.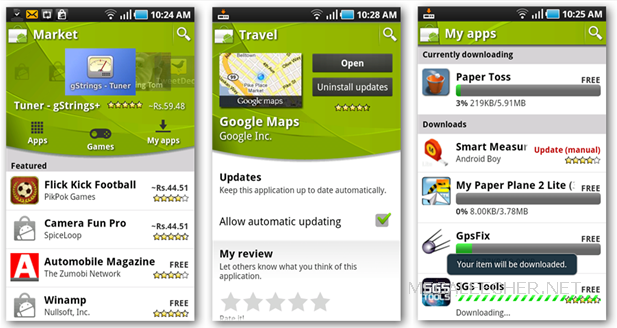 Submitted by admin on Thu, 11/18/2010 - 10:52
Similar to iOS jailbreak you can hack your stock android install to get root user privilege on the device granting you complete control over it. This process known as "rooting" allows users to overcome limitations, add functionality and customize each and every aspect of the operating-system. Compared to iOS jailbreaking, rooting android is a bit easy and can be achieved either by using a desktop application or an application downloaded from market/SD card. While there is quite a fleet of different android powered devices the methods shared below should work on most cases.
If you want to go the "On device" method z4root is the answer, you simply grab the application from "android market" (or download apk to your device storage from computer) and launch it following on-screen instructions.