Megaupload Legal
Submitted by admin on Thu, 08/30/2012 - 01:23
The shutdown of file-hoster Megaupload.com and arrest of founder Kim DotCom was a shocker. Now while the trial is still underway, Kim DotCom is all determined to give anti-piracy agencies future sleepless nights with his promise for a new API which would make file-sharing, safe, easy and private.
Tweeting "They abused the wrong guy. I am going to turn this world upside down. Power to the people. Bye bye Echelon." (Echelon - a secret government operated global digital spying network), in further tweets Kim DotCom revealed his plans for an API which seems to offer developers power to create file-sharing applications which would use storage and bandwidth of globally distributed servers with on-the-fly encryption, ensuring complete privacy from government agencies.
Developers get ready. The Mega API will provide incredible powers. Our API and your Mega tools will change the world.

— Kim Dotcom (@KimDotcom) August 28, 2012
We are building a massive global network. All non-US hosters will be able to connect servers & bandwidth. Get ready.

— Kim Dotcom (@KimDotcom) August 28, 2012
The new Mega will offer one-click-encryption of ALL your data transfers, on the fly, easy to use, free of charge, TOTAL PRIVACY!

— Kim Dotcom (@KimDotcom) August 28, 2012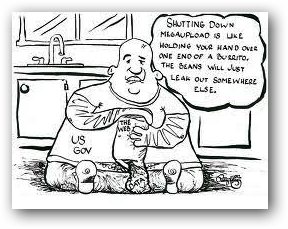 Submitted by admin on Wed, 02/01/2012 - 02:32
One of the most popular online file-hosting/content-locker service Megaupload.com had their servers searched and employees arrested in New Zealand, on January 19 on copyright infringement accounts. To users bad-luck, millions of user-accounts also got locked with this seizure without any possible way to retrieve their files, now there is some ray of hope to legitimate users having non-copyright infringing files in there accounts as Megaupload's hosting company "Carpathia" teams up with Electronic Frontier Foundation (EFF) to identify legal files and help users retrieve them before all illegal content is purged from the seized servers.