Blu Ray Pc Software
Submitted by admin on Tue, 01/10/2012 - 05:00
While most of the new-year celebrations are over now, our friends at LotSoft, Inc are still celebrating giving away free genuine licensed copies of their BDlot Blu-ray Ripper PC utility.
BDlot Blu-ray Ripper is a Blu-ray decrypting and copying tool for users to backup Blu-ray discs to their local storage. The versatile utility allows users to protect their favorite DVDs easily from cracking, scratching, other damages or loss, ignoring any mainstream Blu-ray protections, such as BD ROM Mark, BD+, BD-Live, UOPs, AACS, region code, etc., enjoy perfect Blu-ray DVD quality 1:1 backups with original Blu-ray movies contents (BDAV M2TS audio track, subtitle track, video track, and menu), deleting those annoying FBI and Interpol messages and useless subtitle or audio tracks, user can also transcode Blu-ray discs/backups to MKV, MP4 and other popular formats and watch these videos on iPhone, iPad, iPod, Android, Samsung mobiles, tablets, as well as other popular portable gadgets.
Submitted by admin on Sun, 06/05/2011 - 08:51

There were days when Nero Burning Studio was the only easy-to-use option available to burn optical disc's, things have changed since then and today we have many excellent free options like Hamster Burning Studio, BurnAware, JetBee and Inscriptio, letting us compose and burn disc's with ease.
7Burn is yet another such simple to use freeware utility designed to work properly under Windows® 7 using the new IMAPI v 2 technology, the utility supports writing discs in following formats - CD-R, CD-RW, DVD ROM, DVD-RDVD-RAM, DVD+R, DVD+RW, DVD+R Dual Layer, DVD-RW, DVD-RW Sequential, DVD-R DL Sequential, DVD-R Dual Layer, DVD+RW DL, HD DVD-ROM, HD DVD-R, HD DVD-RAM, Blu-ray DVD (BD-ROM), Blu-ray media Sequential, Blu-ray media, and Blu-ray Rewritable media.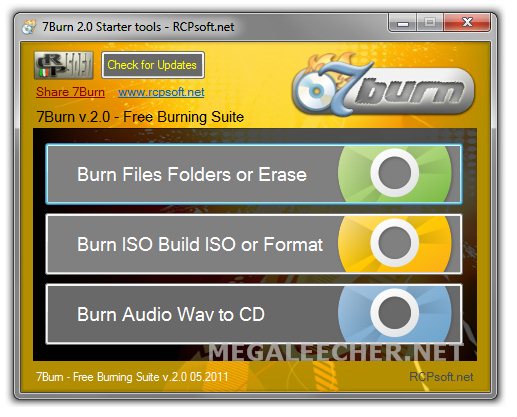 Submitted by admin on Sun, 01/02/2011 - 10:02

We have shared various free alternatives like BurnAware, JetBee and Inscriptio convincing you to part-away with popular but super-bloated Nero Disc Burning utility, if you are not yet convinced today's share will definitely make you do so.
Hamster Free Burning Studio for Windows 7/Vista/XP would be definitely one of the most feature-rich, multi-purpose and easy-to-use free CD/DVD/Blu-ray disc burner utility for Windows.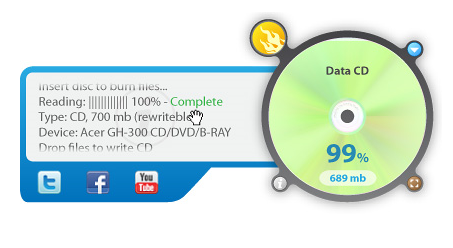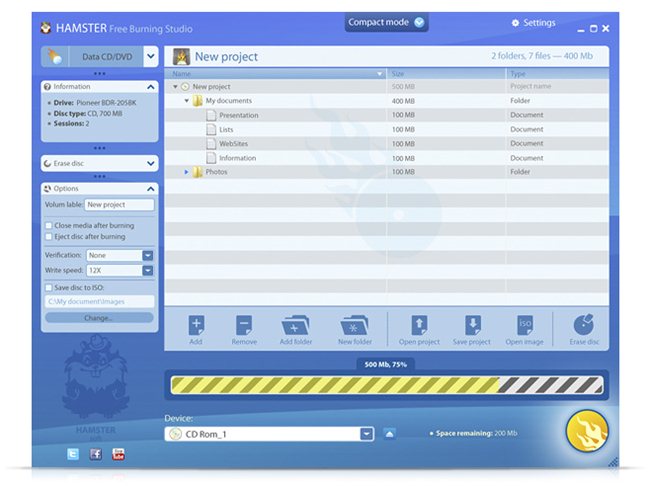 Submitted by admin on Thu, 08/28/2008 - 14:15

The most popular CD/DVD writing software - Nero Burning ROM has evolved a lot from being a simple CD/DVD burner application to a full-fledged all-in-one optical media authoring solution, resulting in adding a lot of bloat and lots of other applications and features that you'll never really use, so if you are looking to get rid of Nero bloatware and looking for a free, fast and simple alternative to Nero - BurnAware Free is your answer, the free CD/DVD/Blu-ray burning application is pretty much similar to Nero and comes in three versions - Free, Home & Professional, the free version allows you to burn data, audio, and video CDs, DVDs, and Blu-ray discs pretty much sufficing everything you'd ever need.