Free Roboform Alternative
Submitted by admin on Sat, 04/28/2012 - 09:54
While there are some excellent free password managers like Lastpass, my1login and Roboform (limited functionality in free version), you still have paid option's from security software companies like Symantec Norton Identity Safe and Kaspersky Password Manager. The great news is commercial utility "Norton Identity Safe" is available under a "FREE Forever" license if you download it by October 1, 2012.
Norton Identity Safe not only manages your passwords at a single location, under a single login for easier, faster and more secure website logins. But also features a automated form-filler, secure notes manager, safe security screened web-surfing and search, cross-browser support and even comes with native clients for Windows, Mac, iOS and Android.
Submitted by admin on Tue, 04/10/2012 - 04:42
While Lastpass and Roboform are two excellent choices for a free password manager, they both have crippled functionality when it comes to free version. Roboform limits the number of stored logins in free version, Lastpass only allows mobile-app access to the vault for premium users.
my1login is yet another free solution which allows users the same functionality with more features and convenient "Access from all devices including mobile", my1login is totally cloud (web) based and no browser plug-in or software is required to be downloaded or installed allowing access from multiple devices i.e. laptop, tablet, mobile phone retaining the same usage behavior. The user simply needs to single-click the website they want logged into and my1login does that for you automatically, my1login also features integrated dashboard of your email and social media for added convenience.
Submitted by admin on Sun, 10/02/2011 - 10:21

Freeware multi-platform and multi-browser password managers like LastPass not only makes your life easier filling passwords but also saves your time filling forms.
Recently my LastPass installation developed a strange bug after update to Firefox 8 Beta - instead of real decoded values it started filling out strange encrypted login data resulting in failing logins. Luckily, I was able to get rid of this problem using the simple trick posted below.
Submitted by admin on Mon, 09/01/2008 - 06:09

Managing online passwords across different computers, browsers and operating systems can be very tricky, the developers at LastPass Corportation seems to have heard our prayers and developed LastPass - a free cross-browser, multi-platform secure password manager, currently in BETA the service is simply amazing, far better then any free password manager out there.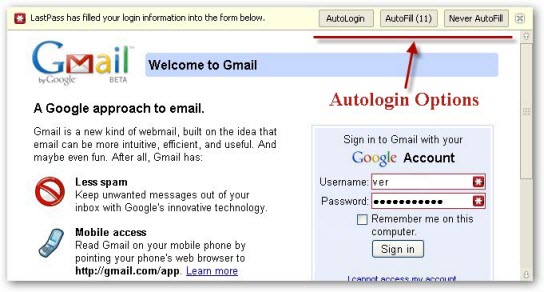 Lastpass is pretty easy to install and provides plugins for Firefox (All platforms) and Internet Explorer (Safari support coming soon), LastPass allows importing from all major password managers including Firefox, Internet Explorer, RoboForm, Keepass, Password Safe, and MyPasswordSafe, Once imported all data is encrypted locally using one way salted hashes making using of strong AES encryption, this encrypted file is then stored on Lastpass servers allowing you to sync your password data on different computers using Windows, Mac, or Linux.