Free Cloud Storage
Submitted by admin on Tue, 05/21/2013 - 08:05
Days after Google+ Photo annoucement, one of the oldest, leading photo-storage service flickr announced some big changes which will please it's users.
The service will remain free as earlier and will now offer one terabyte of online storage under the zero payment plan, the interface has also been revamped and is now more attractive and easier to use. Users will also be able to share photos in their original quality at high-resolution. Another, welcome advancement is the introduction of native mobile apps for Apple iOS and Google Android which allows the "Upload once, send to any device, any screen, any friend, and any follower" scenario.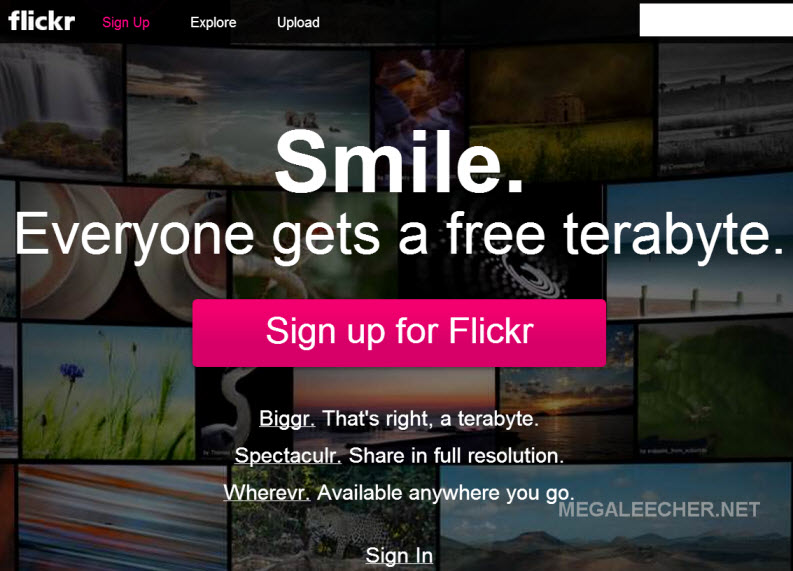 Submitted by admin on Thu, 11/08/2012 - 05:36
Cloud sync and backup niche is already crowded with big players like SugarSync, DropBox and SkyDrive. Adding another option to these offerings, popular remote desktop access service LogMeIn has came up with there very own cloud syncing solution - Cubby.
One thing you will instantly notice about Cubby is that, it's an well designed and easy-to-use cloud backup and sync solution. The service allows users to share digital content across all their computers, tablets, smartphones or anything connected to internet via an web-browser. Apart from the usual 5GB free storage (with upto 25GB referral limit) and other cloud backup and sync functionality, Cubby features DirectSync allowing syncing across devices which does not count against users cloud storage, public and private sharing and the ability to sync-n-backup any folder of user choice.
Submitted by admin on Sat, 03/24/2012 - 03:57
Sadly, BeeCloud - the only cloud backup solution offering a whooping 500+ GB free online storage went out of the business recently. However, not exactly a cloud backup service provider a new service "JumboFiles" do offer their free account users a generous 500 GB of online file storage space.
The service is more like a online file-locker like Hotfile, Megaupload and Rapidshare and offers users free 500GB account to store files with 1GB size-limit per file, with support for resumeable downloads and download accelerators.
Submitted by admin on Fri, 02/10/2012 - 09:08

We have blogged about freemium cloud storage solutions like Dropbox, SugarSync, ZumoDrive, DropBoks, Microsoft SkyDrive and LiveDrive but all of them offer a limited amount of "online data storage" after which a user needs to upgrade their accounts to store more data.
BeeCloud is another such solution but offers a whooping 512GB of online storage with their free account, basically a reseller for LiveDrive they offer fully automatic backups with upto 30 revisions, anywhere data access from the web, iPhone, iPad, smart phone, PC, or Mac and even supports music and videos streaming straight from your mobile device over 3G or wifi.
Submitted by admin on Thu, 11/11/2010 - 10:41
Cloud storage and syncing not only comes-in handy but also ensure safety against data-loss, we have reviewed services like Dropbox, Windows Live Mesh, ZumoDrive and aDrive (50 GB Free backup) offering starter packs with limited free storage space. Another cloud-storage and syncing service SugarSync is now offering 5 GB free backup-storage for everybody with no limit on the number of devices your can sync, to make things even more lucrative SugarSync truly holds to it's motto - "Access all your data Anytime, anywhere, from any device" by offering clients for PC, MAC, iOS, Android, Blackberry, Symbian and Windows Mobile Mobile Platforms.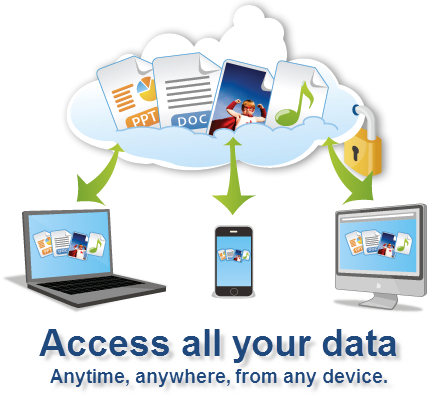 Submitted by admin on Fri, 02/13/2009 - 09:31

Much awaited free online storage service GDrive launch seems nearby, but there is no need to wait for it as their exist lots of good free online file-storage and synchronization services like DropBox, FolderShare, SkyDrive and Box.Net to name a few, to make things even more interesting and competitive we now have a brand new startup to warm-up the online file-storage and synchronization service market, dubbed ZumoDrive the free (upto 1 GB) cloud storage and synchronization service works pretty similar to paid service LiveDrive letting users access there online data like local disk-drive, but with a HUGE difference which is unlike every other service ZumoDrive does not store local copies of your files until you choose to, this approach provides access to unlimited amount of data on your limited capacity devices, to further clarify the approach take this example - you can store as much music files as you like on ZumoDrive and Play your entire music library directly over the air without getting limited by your iPhone storage capacity.


ZumoDrive provides 1 GB free storage with option of paid-upgrades for more space, the service is currently in private beta and requires a invite code to signup, we have been provided with 200 exclusive beta invites codes for our blog readers, so hurry while they last.