Majority of Windows users face missing .dll file errors every now and then, but missing detoured.dll takes the prize for being the most annoying of them all. Unlike other missing .dll errors this will popup with message "The program can't start because the detoured.dll is missing from your computer. Try reinstalling the program to fix this problem." an .exe file is launched on your computer either manually by the user or via autostart.
On the computer I diagnosed this, the error was being flashed 7-10 times on every boot and one needs to close each prompt, on further digging I found detoured.dll is infact part of an Microsoft Research technology named "Detours" which allowed hooks into every application launched on Windows OS (scary!!!). Having such a dll on a computer without any specific use-case was not acceptable so I devoted time to get rid of this error without the need to re-install this dll in my System folder.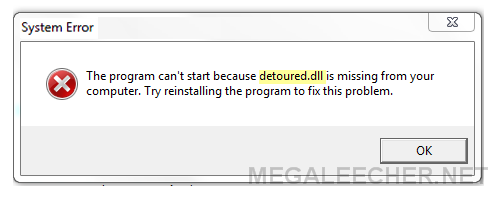 To get rid of this dll being asked to get loaded on every boot we need to remove it from registry location HKEY_LOCAL_MACHINE\SOFTWARE\Microsoft\Windows NT\CurrentVersion\Windows\AppInit_DLLs, you can safely navigate to this key in Windows Registry (regedit.exe) and make the changes yourself, or execute the Disable_AppInit.reg file to do this with ease. Do keep in-mind, you must edit registry only if you know what you are doing and have proper backup before proceeding.