AOMEI Backupper is a new program released by AOMEI Technology. The best part is, it being totally free for home and commercial use. Owing to the increased applications and files being installed on personal PC, it is inevitable to be faced with hardware failures, virus attack and system crash. So, backup before hand is an essential step to prevent data loss. AOMEI Backupper is the utility which enables you to do easy backup and recovery operations for your data.
No hidden quirks, no plug-in components, and 100% clean. A simple and clean graphical interface looks pleasant to the eyes and is easy to use. There is no need to search for a help article because a novice or inexperienced computer can easily handle it. Meanwhile, the options are in the left side, just like other products.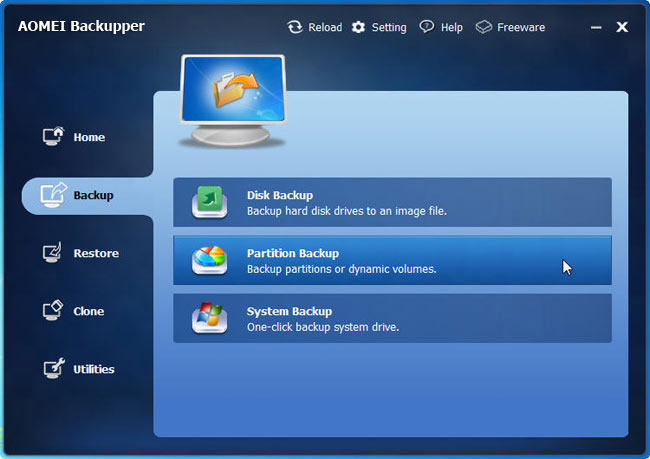 Backup: System Backup, Disk Backup, Partition and Volume Backup
Restore: System Recovery, Disk and Partition Recovery, Selective File Restore
Clone: Disk Clone, Partition and Volume Clone
Other: Incremental & Differential Backups, Encryption and Compression, Image File Checker and Explorer, Comment Backups and Splitting Backups, Create Bootable Rescue Media
Operating System: Windows 7/8/XP/Vista and Server 2003/2008/2011/2012 (both 32bit & 64bit).
Storage Devices: Supports all storage devices recognized by Windows, such as IDE, SATA, SCSI,
SSD, USB external disks, hardware RAID and so on. Moreover, supports MBR and GPT style, and fully support capacities greater than 2TB.
Overall AOMEI Backupper is a good backup program to protect your data on Windows PC and Server OS. Also, this software already supports VSS, a technology from Microsoft, which means that data backup process will not interfere with running applications. So, it will improve your work efficiency at the same time. You can download the latest version here.