Kaspersky offers some of the best protection solutions from computer security threats, and to tackle the more advanced and sophisticated new generation of malware the company has released their updated version of Kaspersky Internet Security And Kaspersky Anti-Virus 2014. While the most notable new feature is the greatly enhanced GUI with a brand-new look and faster responsiveness to user actions, under the hood the scanning and detection engine is overhauled to tackle new types of malware's like "Ransomware".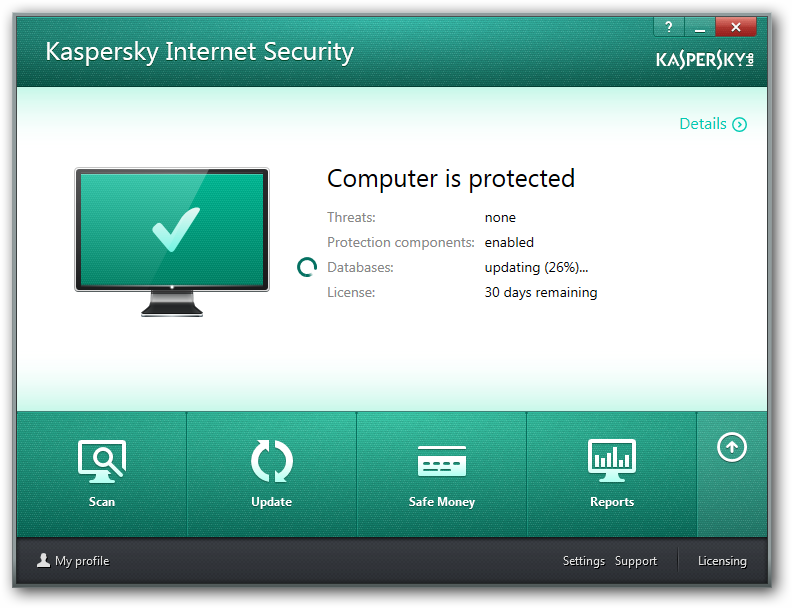 Kaspersky Internet Security 2014 is a comprehensive data protection tool. The application provides protection against viruses and malware and Internet fraud. The multifaceted protection covers all channels of data transfer and exchange. Flexible configuration of each protection component allows adapting Kaspersky Internet Security 2014 to the needs of any individual user.

Improved and new features in Kaspersky Internet Security 2014:

Trusted Applications mode has been added. When Trusted Applications mode is enabled, Kaspersky Internet Security 2014 allows starting only known and trusted applications and ensures that they are run safely.
Kaspersky ZetaShieldtechnology has been improved for efficient detection of exploits.
Protection against screen lockershas been added. If a banner demanding a ransom appears on the screen, pressing specific key combination makes Kaspersky Internet Security 2014 detect and delete this ransomware.
On Windows 8, Kaspersky Internet Security 2014 can minimize its activity when switched to Connected Standby mode. When running in the limited activity mode, Kaspersky Internet Security 2014 pauses scan tasks and update tasks. When the computer returns from Connected Standby mode, all paused tasks are resumed automatically.
The latest versions of popular web browsers are now supported:

Mozilla FireFox version 16.x – 22.x
Internet Explorer version 8 – 10
Google Chrome version 22.x – 27.x

The option of participating in the Protect a Friendprogram has been added. You can share a link to Kaspersky Internet Security 2014 (with extended trial period) with friends in Twitter and Facebook.
The functionality of Safe Money has been improved: you can now select a browser to open websites of banks or payment systems. The list of popular websites for financial transactions has been added; when these websites are accessed, Safe Money is enabled automatically.
The functionality ofParental Control has been improved: permissions to start games and applications can be flexibly configured. Age-appropriate presets for Parental Control have been added for restricting user activity.
Phishing protection has been improved.
The application performance has been enhanced; the use of the computer resources has been optimized.
Now considerably less time is required to start the application.
GUI performance and respone to user actions have been improved.




GUI improvements:

The application GUI has been improved to provide even quicker and easier access to basic tasks, such as scanning, troubleshooting, etc.
The application reportwindow has been improved. Now the reports are simplier and clearer.
Configuration of the application settings has been simplified: only frequently used settings are available for configuration.