World's leading optical disc authoring application suite Nero got upgraded to the next major version dubbed - Nero 9, the latest release of the powerful comprehensive software suite enables users to easily create, rip, copy, burn, edit, share, and upload multimedia content with ease.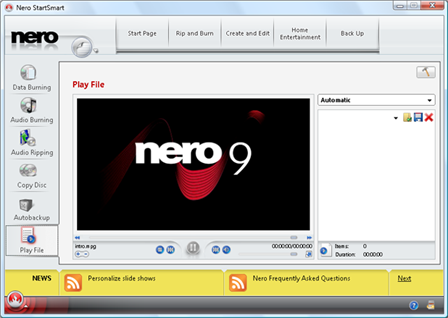 Ahead Nero 9 Features:
New improved fast, easy, and convenient StartSmart user interface.
Support for creation of superior High Definition video.
New Tape Scan feature for quick and easy preview with scene selections from digital (DV) or High Definition videos (HDV) import of video, saving both time and hard drive space.
Nero 9 provides highly-enhanced yet easy-to-use video editing tools that let you personalize your home videos and slide shows. The new Movie Wizard allows for greater creativity with an easy-to-use library of templates including themes for special occasions like birthdays, holidays, and weddings, plus soundtracks and special effects.

TV card SD & HDTV (up to 4 tuner support with PiP) plug-in for Windows Media Center - Watch, record, pause, and customize your live TV experience.

Easy Auto Backup Functions - Nero 9 includes new easy and convenient tools to protect your valuable memories and confidential data, plus safeguard against system crashes, natural disasters, and human error. The new Auto Backup feature in Nero 9 makes it easy for you to back up digital files from your PC including files, folders, drives, and even the entire system via a simple wizard interface for offline or online backup. With Nero RescueAgent technology, you can safely and securely recover data from damaged or scratched discs, hard drives, USB and flash sticks, and other memory devices.
Nero 9 is fully compatible with Windows Vista and also comes with one-click fast and easy disc copy and disc image burning Gadget for the Windows Vista Sidebar.
Watch TV in Windows Vista Sidebar.
Improved functionality to Recover lost data due to scratched discs or bad recording quality.
Automatically extract the music of Music TV Shows and export to MP3.
Automatically retrieve all Music information via Gracenote (Album Art,Title, Artist, year, etc.)
Listen to web radio and podcasts with improved functionality and preloaded lists.
Trial feature to watch videos, listen to music and view photos with the PS3 and XBOX 360 on your TV.
Smart Encoding for AVCHD to AVCHD Disc and Blu-ray Disc.
New 'Movie Wizard' to quickly add styles and automatic creation of great movie effects.
Options to boost video quality of standard SD clips to HD resolution.
New 2D and 3D animated menu packs.
The new Nero suite is build on the basis of customer feedback, Jürgen Kurz, senior vice president, Business Line PC and Consumer Electronics, Nero AG said:
"In developing Nero 9, we polled more than 3,000 of our worldwide customers to determine the functionality that they really wanted from the suite,"
"This type of feedback has been invaluable to us over the last decade and has shown us that our consumers are increasingly living digital lives where the PC is the center of the home. They require cutting-edge multimedia capabilities which allow them to enjoy and share their content online and across devices with unparalleled ease of use."
While the new software suite is feature packed and takes care of all your multimedia needs from creating, importing, editing and sharing, most of the users never use all these functions and this functionality overload add to the already bloated Nero suite, if you are looking for a simple, free and fast Nero alternative try this.
You can Download Nero 9 and receive the Free Trial License key from the official webpage here.