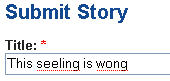 By default Firefox's in-line spell checker does not work in all text-boxes and forms and you need to right-click and select "Spell check this field" to manually start spell-check, however this behavior can be automatically activated by following the steps provided below.
Type about:config in your Firefox address bar and press Enter.
Type layout.spell in filter text box.
Change the value to 2 as shown below.